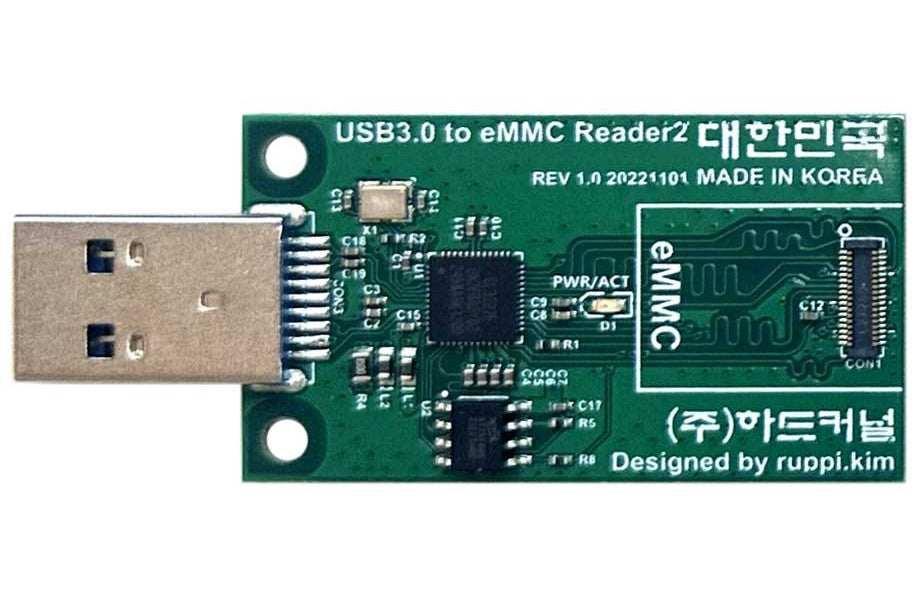 USB3.0 eMMC Module Writer 2
Enhance your OS flashing experience with the USB3.0 eMMC Module Writer 2, the ultimate tool designed to simplify the process of flashing OS images onto your eMMC modules. Say goodbye to the hassle of using separate USB card readers, as this cutting-edge writer board allows you to directly attach your eMMC module to your PC or Mac. Discover a faster, more efficient way to flash your OS image and unlock a world of possibilities.
Effortless Compatibility with a Powerful USB 3.0 Interface
Experience lightning-fast data transfer speeds with the USB 3.0 interface, ensuring a seamless connection between your eMMC module and your computer. Unlike traditional methods that rely on slow SD 4-bit width interfaces, the native eMMC 8-bit wide data interface employed by our writer board ensures optimal performance and efficiency.
HS200 Mode for Exceptional Performance
Take advantage of the HS200 mode, enabling your USB3.0 eMMC Module Writer 2 to deliver exceptional performance when interacting with your eMMC modules. This mode maximizes data transfer rates, reducing waiting times and boosting overall productivity.
Wide Compatibility for Enhanced Flexibility
The USB3.0 eMMC Module Writer 2 is compatible with Windows, Mac, and Linux operating systems, catering to a wide range of users. Whether you prefer working on a PC or Mac, or if you're a Linux enthusiast, our writer board seamlessly integrates with your preferred environment.
Specifically Designed for ODROID Orange, Red, and Blue eMMC Modules
Tailored to meet the needs of ODROID Orange, Red, and Blue eMMC modules, our writer board ensures perfect compatibility, allowing you to effortlessly flash OS images onto these modules. Experience a streamlined process that is optimized for your specific module requirements.
Effortless Operation with Recommended Software
Utilize popular software tools such as Etcher or Win32DiskImager on your PC to seamlessly interface with the USB3.0 eMMC Module Writer 2. These recommended software options provide a user-friendly interface, ensuring a smooth and intuitive flashing experience.
Safeguarded Boot Blocks for Data Integrity
Rest assured that your data is protected with our writer board. While the USB3.0 eMMC Module Writer 2 enables easy access to your eMMC module, it does not interfere with the hidden boot blocks. Your critical boot data remains secure, guaranteeing the integrity of your OS image.
Compact Dimensions and Power Efficiency
With its sleek dimensions measuring just 60x26x4.5 mm, the USB3.0 eMMC Module Writer 2 offers a compact solution that fits seamlessly into your workspace. The writer board is powered by a 5V/500mA power supply, including the eMMC module itself, ensuring optimal performance without excessive power consumption.
Specifications
Interface: USB3.0
Data Interface: 8bit Native eMMC
Mode: HS200
Operating System Compatibility: Linux, Mac, and Windows
Compatible eMMC Modules: Works with Red, Blue, and Orange Hardkernel (Odroid) eMMC Modules (DOES NOT support the Black eMMC Modules)
Software Support for PC: Win32DiskLmager and Etcher
Rated Power: 5V/500mA (when eMMC module is added)
Dimensions: 60mm x 26mm x 4.5mm
Please note that the USB3.0 eMMC Module Writer 2 is not compatible with the Black eMMC Modules.
Items Included
USB3.0 eMMC Module Writer 2