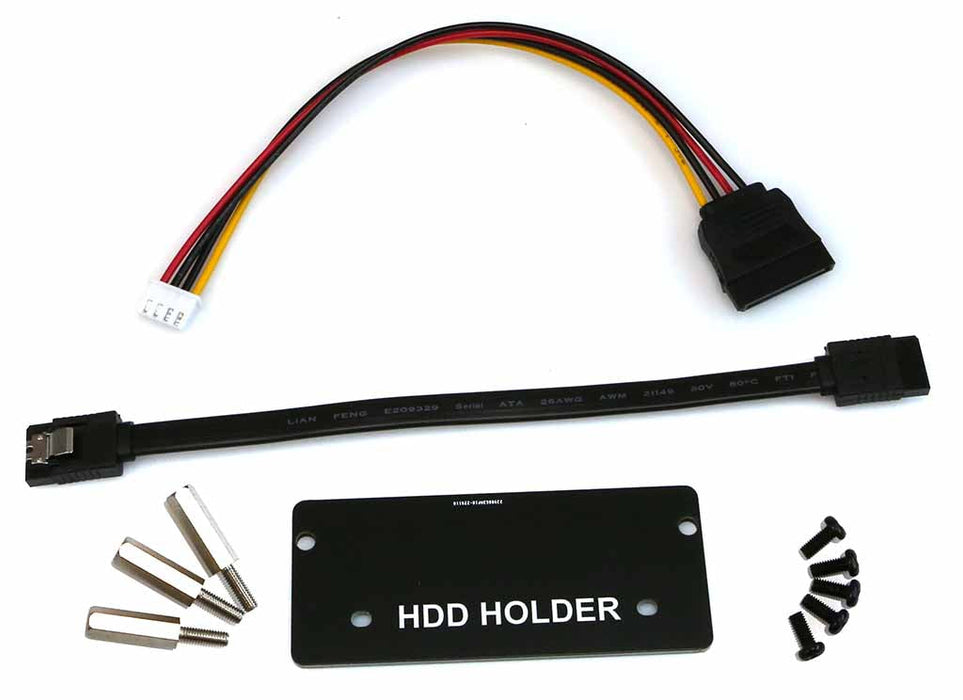 Odroid M1 SATA Mount and Cable Kit
The Odroid M1 SATA Mount and Cable Kit is compatible with Odroid M1. The kit comes with a SATA power cable, data cable, mount plate, spacers and blots. The Odroid M1 SATA interface supports a sequential speed of up to 500MB/s.
The SATA interface on Odroid M1 is a SATA 3.0 (non-USB) Single Native port compatible with SSD NAND Memory and 2.5-inch SSD or HDD.
Odroid M1 SATA Mount Assembly Instructions 
A. Plug SATA Data Cable and Power Cable into Odroid M1.
B. Attach the SSD to the HDD Holder with the help of 2x Blots.
C. Plug SATA Data Cable and Power Cable into the SSD
D. Attach the HDD Holder with SSD to the Odroid M1 with the help of bolts and spacers.
E. Secure the cables gently so that they do not remain suspended outside the assembly.
The box contains an extra steel spacer and bolt (one each) just in case you accidentally damage or lose any, you can use the spare ones.
Items Included
SATA Data Cable
SATA Power Cable
HDD Holder
Bolts and Steel Spacers
ODROID-M1 4GB and ODROID-M1 8GB are sold separately.
HDD or SSD is NOT included.
Odroid M1 SATA Mount and Cable Kit
The kit includes a SATA cable, a SATA power cable for Odroid M1 and a plastic mounting plate. The attachment system feels secure. The cables have a very tight fit for the KKSB Odroid M1 case in terms of width, and the case will press the cable adapters against the drive. Attachment screws for the drive and mounting plate may be too long for 2.5 SSD drives with very short holes, and one may need to find shorter screws than what are included in the kit. For example the Samsung PM897 had too short screw holes for the screws included, but with my other SSD, the screws worked fine.