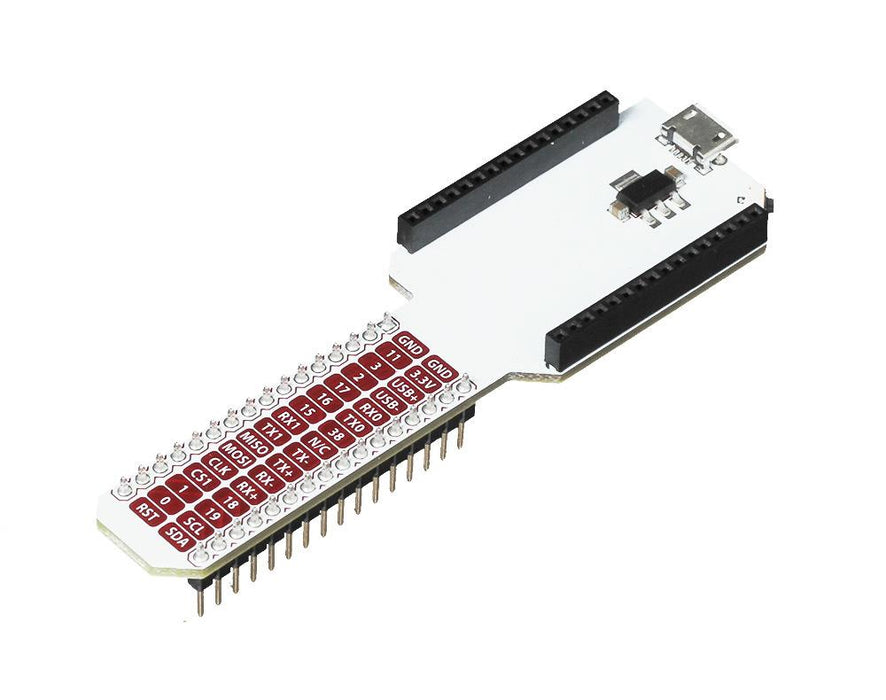 Breadboard Dock For Onion Omega
You can't live without a breadboard! Can you? Scores of Omega users must have been looking for reliable support for Omega to make it compatible with a breadboard. The wait is over with the release of Breadboard Dock for Omega. It opens the door to new possibilities by allowing you to reach the best results by enhancing Omega's functionality through a breadboard. The setup only requires a Micro USB cable to receive power from. The 1-to-1 pin mapping ensures that you have access to all Input/Output Omega pins while working on a breadboard project.
Breadboard Specifications
The Dock contains a Reset Button
A couple of headers are fully compatible with a 16-Pin breadboard
Features a Micro USB Port for power
1-to-1 Omega-Breadboard mapping
Built-in regulator circuit to ensure the stable provision of 3.3V to Omega
Breadboard Dock Features
Enhances Omega's potential by making it compatible with a breadboard
Allows you to make full use of all Input/Output pins on Omega
Supports all Micro USB (5V) power cables
Onion Corp. declares that the Breadboard Dock is its "MOST NO FRILLS DOCK TO DATE!"
Breadboard Dock Description
The Most No Frills Dock to Date says it all! This is something highly-effective to make your Omega efficient than ever before. It helps improve your module's functionality and performance. It makes Omega more reliable to help you get the best results from various projects. The Breadboard Dock protects the connected module via a built-in regulator that makes sure that Omega receives a stable 3.3V.
The Dock also contains a standard reset button to help you reset the module whenever there is a need. Moreover, the factory restoration is also possible through 10-sec. press. The Dock also helps you connect custom-circuits. You need to have one of these Docks to broaden the scope of your Omega projects.