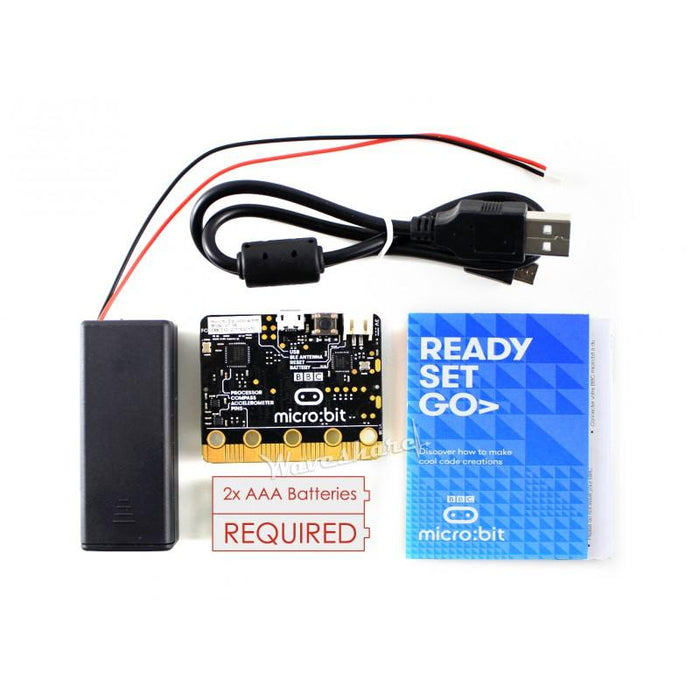 BBC micro:bit Starter Kit
The BBC micro:bit Starter Kit contains three components:
BBC micro:bit
AAA Battery Holder
Type-A to Mciro-B USB Cable
BBC micro:bit is a compact open-source development board that allows you to access a variety of hardware. You can use BBC micro:bit to add a variety of smart features on various applications such as robots and musical instruments. This small device contains a 5x5 LED array (total of 25 LEDs). BBC micro:bit has two buttons that are programmable so that you could use them to control different apps such as games or media playlists. In addition, there is a compass on the micro:bit to sense direction and also an accelerometer to sense motion. BBC micro:bit can communicate with different devices through Low Energy Bluetooth.
Specs of BBC micro:bit
Nordic nRF51822 16MHz 32-bit ARM Cortex-M0 microcontroller
RF SoC: 4.0 Bluetooth (Low Energy) / 2.5GHz
RAM: 16KB
Flash: 256KB
MCU: Freescale KL26Z 48MHz ARM Cortex-M0+
Freescale 3-axis MMA8652 Accelerometer | I2C interface
Freescale 3-axis MAG3110 magnetometer (compass) | I2C interface
Power Connector: 3V Power Supply Compatible
Reset Button
Micro USB connector: supports PC connection, downloading code, serial communication
LED Grid (5x5): Total 25 LDs | Red Color
A/B Button programmable
Connection Pin I/O: Edge connector 20Pin | 5 I/O Rings | Analog, UART, I2C, PWM, SPI
Weight: 0.028 kg | 28 grams
Dimensions: 5cm x 4cm | 50mm x 40mm
BBC micro:bit Software Compatibility
Microsoft PXT Graphical Editor compatible
Available on Windows, macOS, iOS, and Android
Does not need an additional compiler for online programming
With a USB connection, micro:bit can debug and download your code on the connected PC
With the help of Bluetooth connection, micro:bit can debug and download your code on the connected mobile device
Compatible with Mbed C, Javascript, and Python
Microsoft TouchDevelop IDE supported
Microsoft Blocks Supported
Javascript CodeKingdoms supported
Mbed enabled
MicroPython Compatible
Items Included
1x BBC micro:bit
1x USB Type-A to Micro B Cable
1x AAA Battery Holder (Batteries NOT included)
Disclaimer
The color of the BBC micro:bit is selected randomly depending on the availability.
The offer DOES NOT include batteries.