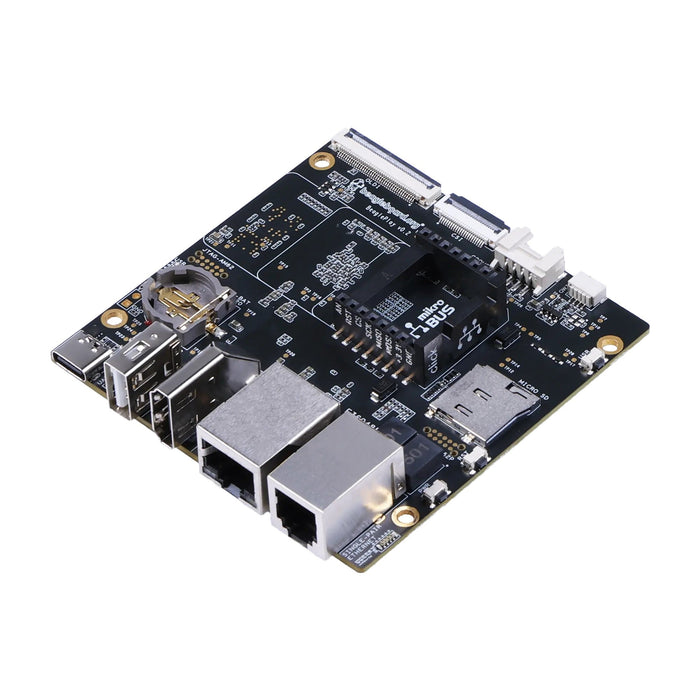 BeaglePlay 2GB RAM 16GB eMMC
Downloads
Discover the extraordinary world of Linux computing with unparalleled simplicity and boundless possibilities through the BeaglePlay Single Board Computer (SBC). Designed to effortlessly merge innovation with accessibility, the BeaglePlay SBC unleashes your creative potential, backed by an array of features that redefine how you interact with technology.
A Quick Overview
Simplified Integration, Limitless Exploration
Unravel the world of embedded computing without the complexities of traditional breadboarding. The BeaglePlay SBC eliminates barriers with its seamless integration of over a thousand off-the-shelf sensors, actuators, indicators, and connectivity options. Harness the power of mikroBUS, Grove, and QWIIC connections, and embark on your journey with minimal effort.
Empowering Performance
At the core of the BeaglePlay SBC lies the robust TI Sitara AM625 system-on-chip, boasting a 1.4GHz quad-core Arm Cortex-A53 processor that ensures lightning-fast execution. With a dedicated PowerVR Rogue AXE-1-16 GPU, experience stunning visuals as OpenGL ES 3.1 and Vulkan 1.2 support elevate your multimedia projects to new heights.
Unparalleled Connectivity
The BeaglePlay SBC transforms your ideas into reality with an extensive selection of wireless capabilities. Seamlessly switch between 5GHz, 2.4GHz, and sub-1GHz frequencies for optimal connectivity. Experience dual-band Sub-1 GHz and 2.4 GHz operation through the Texas Instruments Simplelink CC1352P7 wireless MCU, enabling flexible wireless communication for your projects.
Streamlined Form-Factor
Compact yet powerful, the BeaglePlay SBC measures a mere 8cm x 8cm, making it a versatile solution for various applications. Its small form-factor houses a wealth of features that empower your projects, ensuring that creativity knows no bounds.
Integrated Memory and Display
Effortlessly store and retrieve data with 2GB DDR4 and 16GB eMMC flash memory. The microSD socket further expands your storage capabilities, providing ample space for your ventures. Embrace visual excellence with the Type-A (full-size) HDMI, delivering stunning 1080P visuals through a 24-bit interface. The OLDI FPC connector introduces compatibility with touchscreen displays, opening doors to interactive experiences.
Innovative Networking Solutions
The BeaglePlay SBC sets the stage for innovative networking with its diverse wireless options. Experience MIMO Wi-Fi across 2.4/5GHz frequencies, while Bluetooth Low-Energy, Zigbee, and sub-GHz wireless connectivity provide unparalleled flexibility. Gigabit Ethernet, single-pair Ethernet with power-over-data-line, and Amazon Sidewalk integration ensure seamless data transfer across various mediums.
Enhanced Expandability
Seamlessly extend your system's capabilities through mikroBUS, Seeed Grove, and Sparkfun QWIIC connectors, facilitating easy interfacing with a range of peripherals. The onboard camera FPC connector paves the way for visual enhancements, while the TAG-CONNECT JTAG debug connections for AM6254 and CC1352P7 provide hassle-free debugging options.
Some Examples of Possible Applications
IoT Prototyping and Development: Utilize the extensive connectivity options and sensors to rapidly prototype and develop IoT devices, whether for home automation, environmental monitoring, or industrial applications.
Multimedia Entertainment: Create multimedia centers, digital signage, or media players with its high-definition output, GPU capabilities, and wireless connectivity for streaming and content delivery.
Educational Platforms: Design interactive learning tools, science kits, and educational devices that engage students and encourage hands-on learning in various subjects.
Home Automation: Develop smart home solutions, including connected lighting, climate control, security systems, and energy management, leveraging its wireless communication and sensor integration.
Robotics and Automation: Power robotics projects with the processing capabilities, extensive I/O, and wireless connectivity, enabling advanced control and automation applications.
Art and Interactive Installations: Create immersive and interactive art installations, kinetic sculptures, and audiovisual experiences by leveraging the board's graphical capabilities, GPIO, and sensor integration.
Remote Monitoring and Control: Develop systems for remote monitoring and control, such as agricultural monitoring, equipment tracking, or remote data collection, utilizing wireless connectivity and sensors.
Environmental Sensing: Build environmental monitoring stations for air quality, weather data, and pollution levels using the wide range of available sensors and wireless communication.
Healthcare Devices: Design wearable health and fitness devices, remote patient monitoring solutions, or medical diagnostic tools by integrating appropriate sensors and wireless communication.
Industrial Automation: Create industrial control systems, PLCs, and data acquisition systems by utilizing the powerful processing, I/O, and communication options of the board.
Smart Agriculture: Develop smart farming solutions, such as soil moisture sensing, automated irrigation systems, and crop health monitoring, to optimize agricultural processes.
DIY Electronics Projects: Engage in personal electronics projects, from building custom gadgets to experimenting with new technologies, thanks to the board's compatibility with a wide range of peripherals.
Wireless Networking Solutions: Build wireless networks, extend Wi-Fi coverage, or develop low-power, long-range communication solutions using the sub-1GHz and 2.4/5GHz wireless options.
Research and Prototyping: Utilize the BeaglePlay SBC as a research platform for experimenting with Linux-based systems, sensor integration, wireless communication, and various applications.
Automotive and Transportation: Create automotive diagnostics tools, vehicle tracking systems, or infotainment solutions by integrating the board's features with vehicle electronics.
Specifications

Texas Instruments AM625 Processor
A quad-Core 64-bit ARM Cortex-A53 processor subsystem, capable of reaching speeds of up to 1.4 GHz, provides robust processing capabilities.
Equipped with a 512KB L2 shared cache, enhancing data access efficiency.
Each A53 core includes 32KB L1 DCache and 32KB L1 ICache for rapid data access.
The Arm Cortex-M4F processor operates at speeds of up to 400MHz and is accompanied by 256KB SRAM for streamlined data processing.
The PowerVR Rogue AXE-1-16 GPU ensures exceptional graphics performance, boasting a fillrate exceeding 500 Mpixels/s.
It achieves a remarkable 500 MTexels/s performance along with over 8 GFLOPs computational power.
The GPU supports OpenGL ES 3.1 and Vulkan 1.2, guaranteeing high-quality graphical output.
The PRU (Programmable Real-Time Unit) Subsystem operates at speeds of up to 333MHz, offering precise control for real-time applications.
Texas Instruments Simplelink CC1352P7 Wireless MCU
48-MHz Arm Cortex-M4F processor, the wireless MCU ensures efficient wireless communication.
The MCU boasts 704KB of flash program memory, providing ample space for essential program code.
It incorporates 256KB of ROM, dedicated to housing protocols and essential library functions.
With 144KB of ultra-low leakage SRAM, the MCU enables seamless data handling.
The wireless MCU supports dual-band Sub-1 GHz and 2.4 GHz operation, ensuring versatile wireless connectivity.
Its programmable radio offers extensive support for modulation schemes, including 2-(G) FSK, 4-(G) FSK, MSK, OOK, Bluetooth 5.2 Low Energy, IEEE 802.15.4 PHY, and MAC protocols, contributing to a comprehensive wireless communication suite.
Memory
A substantial 2GB of DDR4 memory accelerates multitasking and enhances overall system responsiveness.
With 16GB of eMMC flash storage, the board offers ample space for data storage and program execution.
The inclusion of a microSD socket facilitates expandable storage options, allowing you to effortlessly access and store additional data.
Display
A Type-A (full-size) HDMI port supports high-definition displays at 1080P resolution with a 24-bit color depth.
The OLDI FPC connector serves as an interface for touchscreen displays, enabling interactive and intuitive user experiences.
Networking
Experience exceptional wireless connectivity through 2.4/5GHz MIMO Wi-Fi, ensuring robust and high-speed wireless communication.
Benefit from 2.4GHz Bluetooth Low-Energy and Zigbee, enabling efficient short-range wireless connections.
The sub-GHz wireless option supports Wi-SUN and Amazon Sidewalk, extending the reach of your wireless network.
The inclusion of a Gigabit Ethernet port (RJ45) ensures high-speed wired networking capabilities.
Elevate your networking potential with single-pair Ethernet featuring power-over-data-line support (RJ11), enhancing versatility.
Add-ons Support
The mikroBUS interface accommodates various peripherals, including I2C, UART, SPI, MCAN, MCASP, PWM, and GPIO.
Utilize the Seeed Grove interface for I2C, UART, ADC, PWM, and GPIO, broadening compatibility with a diverse set of peripherals.
The Sparkfun QWIIC interface streamlines I2C connections, enhancing ease of use and connectivity.
General
A camera FPC connector allows effortless integration of camera modules, enabling visual data capture and processing.
A real-time clock battery back-up socket ensures accurate timekeeping and data retention, even during power interruptions.
TAG-CONNECT JTAG debug connections for AM6254 and CC1352P7 provide convenient debugging options, enhancing development and troubleshooting processes.
Form Factor
Outline Dimensions: 80mm x 80mm
Items Included
BeaglePlay SBC
Sub-GHz Antenna (x1)
4GHz / 5GHz Antennas (x3)
Standoffs
Quick Start Card
Compatible Case (Sold Separately)