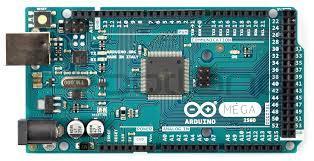 When it comes to complex development projects, Arduino makes life easier for its users. It is amazing to see a comprehensive range of Arduino boards and today we take pride in offering the long-awaited Arduino Mega 2560 Rev3. The board features highly reliable ATmega2560 Microcontroller in addition to dozens of impressive features and specs to support complex robotics and 3D printing projects in particular and complex development projects in general. This is the 3rd version/revision of the trusted Arduino Mega 2560. Let's walk through the specs of the board.
Specifications
Microcontroller: ATmega2560
Flash: 256KB (8KB Flash reserved for the bootloader)
RAM: 8KB SRAM
EEPROM: 4KB
Clock: 16MHz Oscillator Clock
Operating Voltage Compatibility: 5V
Input Voltage Range: 6V to 20V
Arduino Recommended Input Voltage Range: 7V to 12V
GPIO: 54 Pins
PWM Channels: 15
Analog Inputs: 16 Pins
Direct Current per I/O Pin: 20mA
Direct Current per 3.3V Pin: 50mA
LED_BUILTIN: 13
Length = 101.52mm
Width = 53.3mm
Weight = 37g
Description
The Arduino Mega 2560 is now available in the shape of its 3rd revision. The ATmega2560 microcontroller is supported by a number of impressive specs including 256KB Flash, 8KB SRAM, and 16MHz Oscillator Clock.
The Arduino Mega 2560 Rev3 comes with 54 GPIOs including 15 PWM channels and 16 Analog Inputs. This board is an excellent choice for those looking for something highly impressive to help them with complex development projects. If you're looking for a board to support your projects involving robotics or 3D printing then Mega 2560 stands out. You can supply power to the board with AC-DC adapter, USB supply or an external battery.