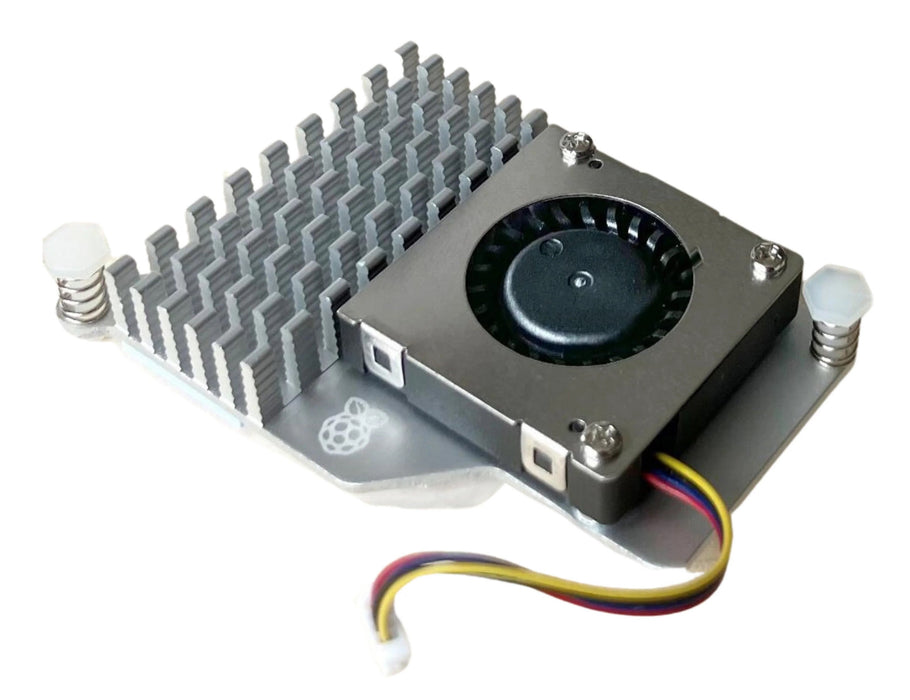 Raspberry Pi 5 Active Cooler
Download Raspberry Pi Active Cooler Product Brief
This is the official Raspberry Pi Active Cooler designed for Raspberry Pi 5. It is an effective clip-on active cooling solution for your Raspberry Pi 5. The cooler features a temperature-controlled blower fan with an integrated single-piece aluminium heatsink.
Since Raspberry Pi 5 is a high-performance processing unit, it may require a dedicated and effective cooling solution to maintain its performance under high processing demand. This official Raspberry Pi active cooler is the perfect solution!
Features
Anodised-aluminium single-piece heatsink
Temperature-controlled blower fan with heatsink mounted using three screws
Efficient heat dissipation with the pre-applied thermal pads
Easy mounting onto the Raspberry Pi 5 using the spring-loaded push pins
Specifications
Airflow (Maximum): 1.09 CFM
Fan Speed (Maximum): 8000 RPM (+/- 15%)
Fan Speed Control: Tachometer for pulse width modulation control
Input Voltage: 5V DC via the 4-Pin Fan Header of the Raspberry Pi 5
Heatsink Material: Anodised Aluminium
Steps to Assemble the Raspberry Pi Active Cooler
Unbox the preassembled Active Cooler.
Peel off the protective backing from the thermal pads located underneath the product.
Gently position the Active Cooler within the designated area on the Raspberry Pi 5, being mindful not to interfere with any of the connectors. For guidance, consult the diagram displayed on the box cover to ensure accurate placement and orientation.
Align the two white push pins with the corresponding heatsink holes.
Once properly aligned, apply uniform pressure to both push pins simultaneously until they audibly click, indicating secure attachment to the board.
After mounting the Active Cooler, connect its fan cable to the 'FAN' labelled connector on the Raspberry Pi 5. Ensure that the cable's connector is inserted correctly, with a firm push to securely connect it to the Raspberry Pi 5 connector.
Drawing
Items Included
Raspberry Pi Active Cooler
Compatible Raspberry Pi Board (Sold Separately)