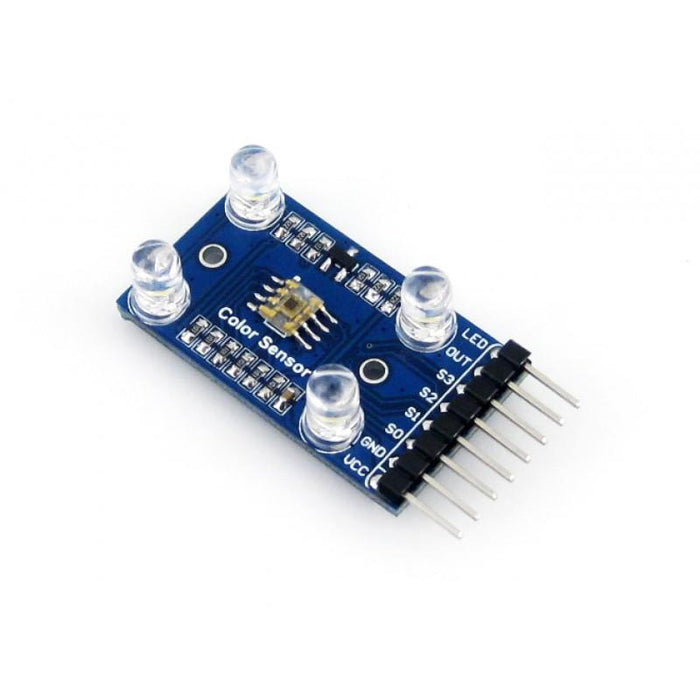 Getting Started with TCS3200 Colour Sensor
This color sensor has the TCS3200 sensor chip that detects RGB colors. The sensor detects static color and generates the output in the shape of a square wave. The intensity of the incident light determines the frequency of the output wave. Higher intensity will generate a higher frequency wave.
Features of TCS3200 RGB Color Sensor
Onboard LEDs for fill-light
Square shaped output
RGB color detection
Static color detection
TCS3200 sensor chip
Compatible with 2.7V ~ 5.5V Input Voltage
Detection Range: Ideally 10mm | 1cm
Hole Size: 2.0mm mounting holes
Weight: 10 grams
Dimensions: 3.6cm x 2.06cm | 36mm x 20.6mm
Using TCS3200 Colour Sensor with a Microcontroller Unit (MCU)
VCC: 2.7V ~ 5.5V
GND: Ground (Power Supply)
LED: MCU.IO (To control 4x White LEDs)
OUT: MCU.IO (Output frequency of RGB Colour)
S0/S1: MCU.IO (Scaling selection inputs for output frequency)
S2/S3: MCU.IO: Inputs for photodiode type selection
The colour is determined by the ratio of the intensity of the colours (RED, GREEN, and BLUE).
OUT is used to generate the square wave. The frequency of the wave is directly proportional to the intensity selected for the color.
S2/S3 is used for the selection of color filter of RED, GREEN, and BLUE.
S0/S1 is used for the selection of output frequency scaling factor.
Applications of TCS3200 RGB Color Sensor
Color matching
Test strip reading
Color sorting
Ambient light detection and calibration
Precautions
Always use White Balance when using the sensor for the first time, after resetting the sensor configurations, or after changing the source of light
Items Included
1x Color Sensor TCS3200
2x Jumper Wires 4-PIN (Custom Connector)