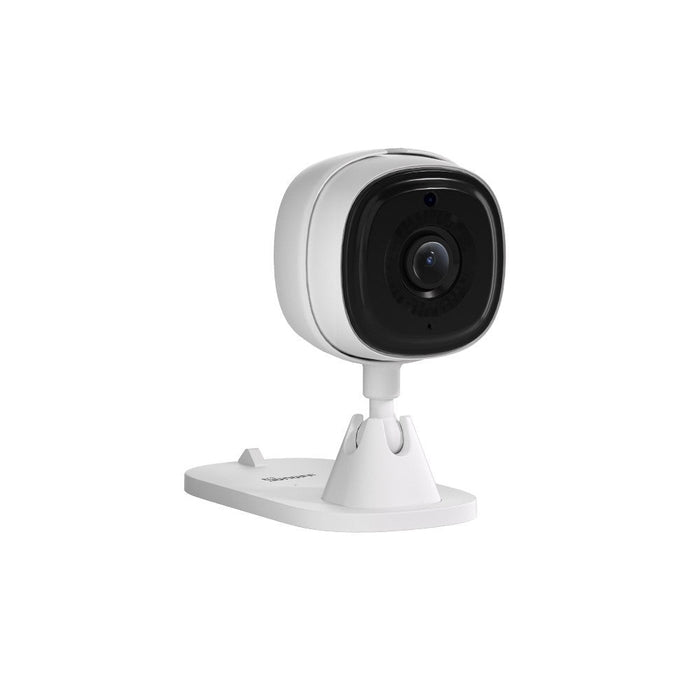 SONOFF S-CAM Smart Security Camera
Downloads
Elevate your home security to new heights with SONOFF S-CAM. Whether you're at work, traveling, or just in the next room, this smart security camera keeps you connected and your loved ones protected. With its cutting-edge features and sleek design, the S-CAM offers peace of mind like never before.
Crystal-Clear Visuals, Day and Night
Experience top-tier image clarity with the S-CAM's advanced 1080p Full HD resolution. Equipped with an infrared night vision function, this camera ensures that your property remains under vigilant watch, even in complete darkness.
Rest assured that you'll never miss a moment, thanks to the crystal-clear visuals and reliable low-light performance.
Intelligent Motion Detection
The S-CAM employs intelligent motion detection technology, designed to identify any suspicious movements and send real-time alerts directly to your smartphone. Stay informed about unexpected visitors, potential intruders, or even if your beloved pets are up to mischief. React promptly to any event and take immediate action, all with the convenience of your mobile device.
Two-Way Audio Communication
Communication is key, especially when it comes to home security. The S-CAM enables seamless two-way audio communication, allowing you to interact with family members, delivery personnel, or even deter unwelcome guests. Utilize the camera's built-in speaker and microphone to relay important messages or warnings, all from the palm of your hand.
Simple Setup, Intuitive App Control
Gone are the days of complex installations and confusing setups. The SONOFF S-CAM boasts an effortless installation process, ensuring you can start securing your home within minutes.
Connect the camera to your Wi-Fi network and take full control with the user-friendly SONOFF app. Adjust settings, view live streams, and manage multiple cameras with ease, from anywhere in the world.
Secure Cloud Storage and Local Storage Option
Protect your valuable footage with secure cloud storage options. Rest easy knowing that all your recordings are safely stored and accessible at any time. Additionally, the S-CAM supports a local microSD card slot, offering you an alternative storage solution for added peace of mind.
The Cloud storage is available with the paid membership.
S-CAM is compatible with up to 256G MicroSD card.
Elegant Design that Blends In
The S-CAM's sleek and compact design effortlessly blends into any environment, ensuring it discreetly complements your home's decor. With its unobtrusive appearance, this camera remains inconspicuous while maintaining a watchful eye on your property.
Compatibility and Reliability
The SONOFF S-CAM is engineered to seamlessly integrate into your smart home ecosystem. Compatible with Amazon Alexa and Google Assistant, you can control the camera with simple voice commands.
Moreover, with its robust build and durable construction, the S-CAM stands up to the test of time, ensuring unwavering reliability.
The SONOFF S-CAM has been designed keeping your pace of mind into focus. The S-CAM embodies commitment to providing cutting-edge security solutions that empower you to protect what matters most.
With 24/7 surveillance, intelligent features, and effortless control, the SONOFF S-CAM is your dedicated guardian, safeguarding your home, possessions, and loved ones, day and night.
Possible Applications
Home Security: Monitor and safeguard your home, ensuring the safety of your family and belongings.
Baby and Pet Monitoring: Keep an eye on your little ones or furry friends, even when you're not in the same room.
Remote Office Surveillance: Monitor your office space and valuables from afar, enhancing security and peace of mind.
Package Delivery Monitoring: Receive real-time alerts and communicate with delivery personnel to ensure safe deliveries.
Vacation Home Monitoring: Keep an eye on your vacation property, even from miles away, to detect any suspicious activities.
Elderly Care: Provide remote caregiving support by checking in on elderly family members and ensuring their well-being.
Nanny or Babysitter Oversight: Ensure the well-being of your children by remotely monitoring interactions with caregivers.
Retail Store Security: Use the S-CAM to enhance security and prevent theft in your retail or small business.
Garage and Workshop Surveillance: Keep your garage or workshop secure and monitor any activities in these spaces.
Airbnb or Rental Property Monitoring: Monitor your rental property for guest safety and to prevent unauthorized access.
Outdoor Security: Place the S-CAM in your backyard, garden, or driveway to monitor outdoor areas for added security.
Office Conference Room Surveillance: Ensure the safety and privacy of sensitive discussions in office conference rooms.
Monitor Entryways and Hallways: Keep an eye on main entry points and hallways for an added layer of security.
Pet-Friendly Spaces: Set up the camera in pet-friendly areas to monitor pet behaviour and ensure their safety.
Neighborhood Watch: Collaborate with neighbors to create a community surveillance network for increased safety.
Items Included