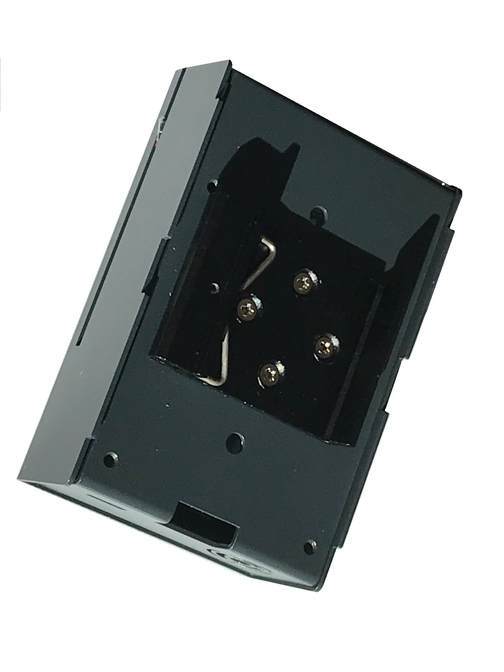 DIN Rail Raspberry Pi 3 Model B+ Case
DIN Rails are extremely effective when it comes to hanging your Raspberry Pi 3 securely without having to face the difficulty of accessing different PCB interfaces. KKSB-Cases once again takes the initiative by introducing something unique. KKSB DIN Rail case for Raspberry Pi 3 Model B+ lets you mount your Raspberry Pi on DIN Rail. The idea is simple, the rear of the casing contains a DIN Rail clip that is connected to a spring. This configuration ensures secure mounting. Even if there is some vibration along the DIN Rail, this case will not stumble. It is basically an upgrade on KKSB Case for Raspberry Pi 3 Model B+.

This DIN Rail Raspberry Pi 3 Model B+ Case is designed for users who would like to install the KKSB Raspberry Pi 3 Model B+ Case onto a standardised DIN rail system. This specific product suits the (Omega) DIM rail of size 35mm.
This product utilises a spring-loaded mounting fixture for easy mounting to said Din rail system, which also gives retention against external factors including vibrations. The robust aluminium case resists harsh environments that can occur.
Features of KKSB DIN-Rail Case for Raspberry Pi 3 Model B+
Designed and manufactured by KKSB-Cases
Made of high-grade aluminium alloy
Exclusively designed to fit Raspberry Pi 3 Model B+
Compatible with the standard 35mm DIN Rail
The case can easily withstand harsh climates because of its aluminium structure
The design is such that, once mounted on the DIN Rail, the USB Ports remain horizontal
If you want to modify anything, you can easily drill holes through 1mm thick walls of the case
The package includes Screws and DIN Clips
The ribbon cable is located on the top of the unit, with the USB ports mounted horizontally. Users also have the potential to drill more holes to arrange the positions as required.
The kit contains the necessary screws, DIN Clips, along with the enclosure.
pi case
Nice case. Very precise and works as it should be. Gave the information to Reichelt electronics germany so that more people are able to to buy your products