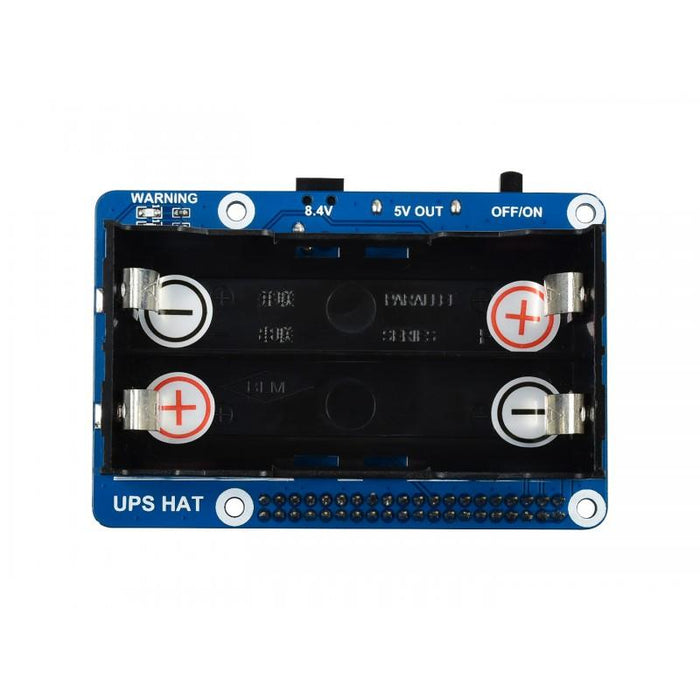 Uninterruptible Power Supply UPS HAT For Raspberry Pi Stable 5V Power Output
 Download User Guide for UPS HAT 
This UPS HAT for Raspberry Pi generates a 5V output. It is compatible with a 18650 Li-battery (not included).
Uninterruptible Power Supply (UPS) HAT for Raspberry Pi has 40-PIN Standard Raspberry Pi Extension Header. The hardware has several circuits for battery protection. To monitor current, voltage, and remaining capacity, UPS HAT uses I2C bus communication. You can charge the power supply even when you are connected to the Pi card for output power.
Video Presentation of the Product 
Features of Uninterrupted Power Supply (UPS) HAT for Raspberry Pi
Extension Header compatible with 40-PIN Raspberry Pi GPIO
I2C Bus Communication Interface. Real-time monitoring of remaining battery, battery voltage, and current.
Features Multiple Protection Circuits: Over Charge / Discharge, Over Current, Short Circuit, Reverse protection in addition to the Equalizing Charge.
5V Onboard Voltage Regulator ensures consistent 2.5A (max.) output current
5V USB Output compatible with Raspberry Pi boards
Battery warning indicator
4V / 2A charger included in the box
Compatible with 18650 Li-Battery (NOT Included)
0mm Mounting Hole
Outline Dimensions: 56mm x 85mm | 5.6cm x 8.5cm
Pin Definition 
Stackable Design 

Note
The UPS HAT for Raspberry Pi is compatible with Li-Battery (18650) which measures no more than 67mm. It does not work with some plate-protected batteries.
Safe and Stable Circuit Design 
Battery Warning Indicator 
USB Output 5V to Power Other Boards
Items Included
UPS HAT for Raspberry Pi (x1)
2x20-PIN Female Header (x1)
4V / 2A Battery Charger EU Plug (x1)
Screws