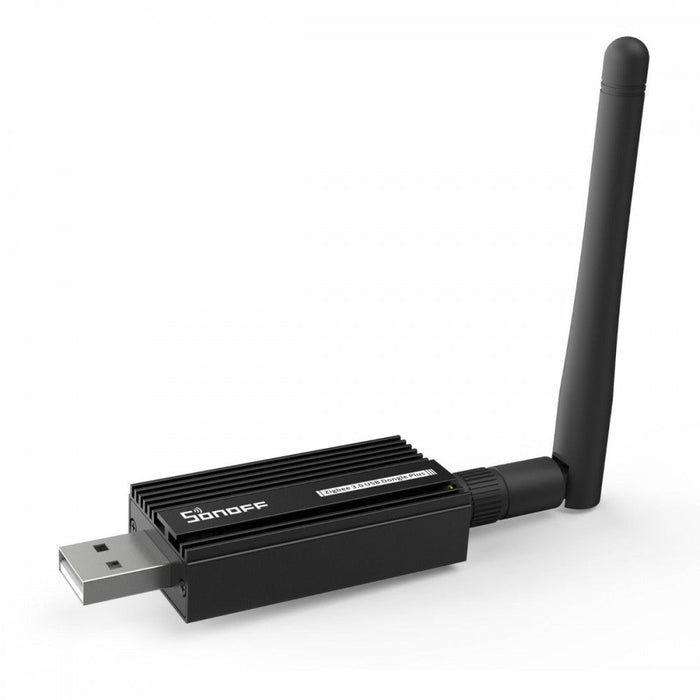 SONOFF Zigbee 3.0 USB Dongle Dongle Plus Model ZBDongle-E
Downloads
SONOFF Zigbee 3.0 USB Dongle Plus (ZBDongle-E) you can transform your Home Assistant, openHAB, Zigbee2MQTT, or any other open-source platform into a powerful Zigbee gateway, enabling seamless local control over all your Zigbee devices. No longer will you need to invest in different brands' Zigbee hubs; the Dongle Plus serves as the ultimate universal gateway!
Extensive Device Support
As a Zigbee 3.0 gateway, the Dongle Plus seamlessly integrates with various sub-devices from different brands through open-source automation platforms. The range of supported devices is dependent on the specific platform being used.
Flexibility to Extend Network Range
The Dongle Plus comes pre-flashed with coordinator firmware, ensuring easy setup as a gateway. However, if desired, you have the option to flash it with router firmware to extend the network range, providing greater flexibility and coverage.
Compatible with Multiple Operating Systems
Driver installation is required for MacOS and Windows.
Highlights
Zigbee 3.0 Compatibility: This dongle is fully compatible with Zigbee 3.0, the latest standard for home automation communication. Zigbee 3.0 offers increased compatibility, stability, and faster data transmission, ensuring seamless connectivity with a wide range of Zigbee-enabled smart devices.
Powerful Range: With an extended communication range, this USB dongle ensures reliable connectivity throughout your customers' homes. Gone are the days of connectivity dead zones – this device offers a truly robust and extensive range for uninterrupted smart home control.
Plug-and-Play: The Sonoff Zigbee 3.0 USB Dongle Plus-E boasts a simple and hassle-free setup. Just plug it into any compatible device or hub, and it's ready to go. No complicated installation or technical know-how required – making it user-friendly for all.
Compact and Portable: Its sleek and compact design allows your customers to take it on the go, providing them with a convenient way to manage their smart home devices while traveling or staying elsewhere.
Efficient Power Consumption: Thanks to its optimized power consumption, the dongle doesn't strain your customers' devices or increase electricity bills. It's an eco-friendly and cost-effective solution for modern smart homes.
Examples of Possible Applications
Home Automation: The Sonoff Zigbee 3.0 USB Dongle Plus-E serves as the central hub for various smart home devices, including smart bulbs, switches, sensors, and more. Your customers can easily control and automate their lighting, climate control, security, and other appliances.
Security System Integration: Enhance the security of your customers' homes by integrating Zigbee-enabled security sensors and cameras. The dongle enables real-time alerts and monitoring, ensuring a safe and secure living environment.
Energy Management: Help your customers save energy and reduce utility costs by linking Zigbee-compatible smart plugs and power monitoring devices. They can track and control energy usage, optimize appliances, and reduce their carbon footprint.
Smart Environmental Monitoring: The dongle can be paired with Zigbee sensors to monitor indoor temperature, humidity, and air quality. This information empowers your customers to create healthier and more comfortable living spaces.
Healthcare and Elderly Care: Integrate Zigbee health monitoring devices, such as wearable sensors, to keep track of vital signs and well-being. This can be especially useful for elderly care and medical assistance.
 Hardware Layout
Specifications
Model: ZBDongle-E
Wireless Protocol: Zigbee 3.0
Input: 5V DC (Max. 100mA)
Shell Material: Aluminium Alloy
Operating Temperature: -10oC to 40oC
Dimensions: 75mm x 25mm x 13.5mm
Comparison between ZBDongle-E and ZBDongle-P
Items Included
SONOFF ZIGBEE 3.0 USB Dongle Plus (Model ZBDongle-E)
Antenna
User Manual