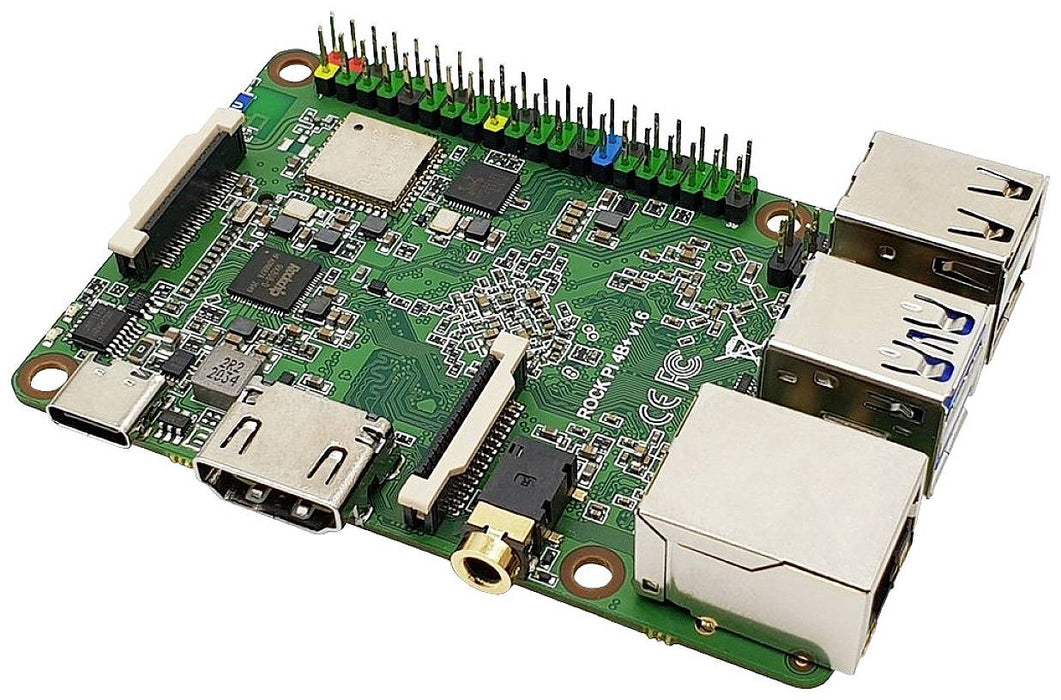 Download ROCK 4 Model SE Product Brief
Download ROCK 4 Model SE Schematics
ROCK 4 Model SE is a high-performance SBC based on the Rockchip RK3399-T. This board has a 6-Core big.LITTLE ARM-based processor featuring Dual-Core ARM Cortex-A72 and Quad-Core ARM Cortex-A53 chips and a Mali T860MP4 GPU.
LPDDR4 4GB 64-bit RAM, Antenna, Bluetooth, WiFi, onboard RTC, 4K HDMI port, and audio jack make ROCK 4 SE a suitable SBC for various projects and multimedia applications.
Highlights of ROCK 4 SE
Rockchip RK3399-T Hexa-core processor
Dual ARM big.LITTLE 1.5GHz Cortex-A72 and 1.0GHz Quad-Core Cortex-A53 with Mali T860MP4 GPU
Expandable storage via eMMC, MicroSD or SSD
More options in a similar form factor to Raspberry Pi 4
Video Presentation of ROCK 4 SE
Powerful Rockchip Processor
ROCK 4C+ is based on Rockchip RK3399-T System on Chip and ARM big.LITTLE Technology featuring 6-Core Processing Unit, i.e., 1.5GHz Dual-Core Cortex-A72 and 1.0GHz Quad-Core Cortex-A53. The processor is supported by a 64-bit dual-channel 4GB LPDDR4 Ram and T860MP4 ARM Mali GPU.
Extensive Storage Support
ROCK 4 Model SE has a socket for eMMC / MicroSD card and an M.2 M Key to expand storage and upgrade Operating System.
Real-Time Clock Connector for RTC Battery
The board comes with an RTC Battery Connector. Real-Time Clock enables ROCK 4 SE to keep accurate time even if the SBC is powered OFF.
Multiple Connectivity Features
ROCK 4 Model SE supports WiFi, Bluetooth 5.0, and Gigabit Ethernet. It also has a built-in antenna to incorporate your ROCK 4 SE into different applications. In addition, ROCK 4 SE features HDMI and USB interfaces.
Compatible with Various SBC Accessories
The 40-Pin GPIO Expansion Header offers endless connectivity support making the board capable of supporting an extensive range of SBC accessories.
Advanced Multimedia Support
The ARM Mali t860MP4 GPU is ideal for various multimedia applications including signage, video processing, and gaming. ROCK 4 SE has an HDMI port, a display interface, and a camera interface. The board supports up to 4Kp60 resolution. The 3.5mm audio jack supports stereo audio output.
Form Factor
Pinouts
ROCK 4 Model SE Specifications
SoC: RK3399-T Rockchip
Processor: big.LITTLE ARM Technology | 1.5GHz Dual-Core Cortex-A72 | 1.0 GHz Quad-Core Cortex-A53
GPU: Mali T860MP4 ARM GPU | OpenGL ES 1.1, 2.0, 3.0, 3.1, 3.2, Open CL 1.1, 1.2, Vulkan 1.0, and DirectX 11.1 support
RAM: Dual Channel LPDDR4 4GB RAM 64-bit
Power Compatibility: 9V ~ 12V USB Type-C Power Input Interface
HDMI: 1x HDMI port supports up to 4K @ 60fps
Connectivity: Gigabit Ethernet, Bluetooth 5.0 with BLE, WiFi 5
USB Interfaces: 2x USB 2.0, 1x USB 3.0 OTG (Switchable), 1x USB 3.0
Audio Ports: 3.5mm Jack | Microphone Input | Analogue Stereo Output
MIPI: 2-Lane CSI Connector (x1) | 2-Lande DSI Connector (x1)
Storage: eMMC / Micro SD Socket | M.2 M Key
eMMC Connector: B2B Connector
RTC Connector: RTC Battery Connector
UART: 2x UARTs
Operating System Support: Android 11, Android 10, Android 7.1| GPU-enabled AI stack such as Caffe | Hardware Control / Access Library for Android / Linux
Software Support: ARMv8 Instruction Set | Ubuntu / Debian Linux Support
Operating Temperature: 0℃ to 50℃
Storage Temperature: -20℃ to 80℃
Items Included
Compatible Products (Sold Separately)