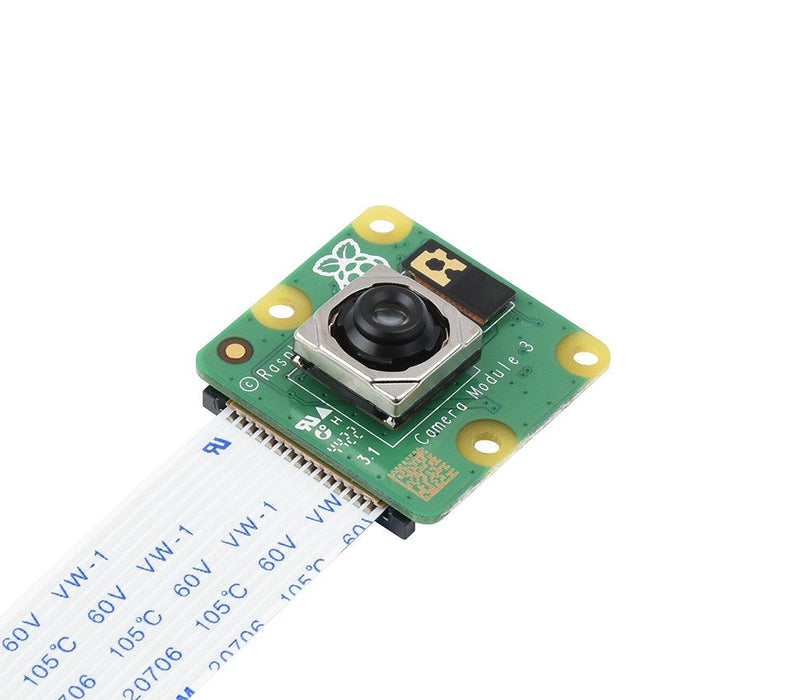 Raspberry Pi Camera Module 3 12MP IMX708 - Standard Basic Version 75 Degree FOV
Getting Started with Raspberry Pi Camera Module 3
The Raspberry Pi Camera Module 3 comes with an upgraded 12MP IMX708 Quad Bayer camera sensor. The view angle (FOV) of this module is 75o. The camera is compatible with the I2C control interface allowing convenient use of the auto-focus function.
The Raspberry Pi Camera Module 3 is compatible with all Raspberry Pi series SBCs as well as Raspberry Pi Zero Microcontrollers including Raspberry Pi Zero 2W.
Key Features
Backed by the Raspberry Pi Picamera2 Python library
Full image processing support for the developers from libcamera - Raspberry Pi Open Source Camera System
I2C compatible - convenient focus control with powered Auto-Focus
Improved camera sensor with higher sensitivity – 12MP IMX708 comes in replacing the 8MP IMX219 used in the Raspberry Pi Camera Module V2
Optimised photo quality with High Dynamic Range (HDR) support
Connection Examples with Raspberry Pi
The Yellow FPC Cable is not included. This cable is required to connect the camera with Raspberry Pi Zero microcontrollers.
12MP High-Resolution Camera
Camera Module 3 offers the capability to capture full HD video at a frame rate of 50fps, while lower resolutions allow for even higher frame rates.
Additionally, it includes an HDR mode and autofocus, enhancing its versatility for both photography and video recording, making it an excellent choice for various applications.
Support for Beginners
The most recent iteration of Raspberry Pi OS comes bundled with a beta release of Picamera2, a Python library developed by the Raspberry Pi in-house team. Suitable for both novice and experienced users, Picamera2 serves a wide range of purposes, spanning from home-based projects to applications in the field of machine learning.
Open Source Camera System Support
Camera Module 3 harnesses the capabilities of the Raspberry Pi Open Source Camera System, which is driven by libcamera. This comprehensive collection of libraries empowers developers with precise control over image processing and grants them enhanced access to the inner workings of Camera Module 3.
Auto Focus Feature
Free and flexible auto-focus via I2C control. Take photos more conveniently.
Some Examples of Possible Applications
Photography and Videography: Capture high-resolution photos and videos with improved image quality and HDR support.
Home Security: You can capture images or videos when motion is detected, enabling surveillance and remote monitoring of your home.
Wildlife Monitoring: Use the camera to capture images or videos of wildlife in your area.
Video Conferencing: It's suitable for small video conferencing setups and can be integrated into various communication applications.
DIY Webcam: Transform your Raspberry Pi into a webcam for video calls, streaming, or recording. The auto-focus feature can help maintain clear focus during video chats.
Object Recognition: This is useful for creating smart applications such as automated inventory management or tracking objects in a production line.
Remote Sensing: Deploy the camera on drones or remote-controlled vehicles to capture images from hard-to-reach locations, such as aerial photography or environmental monitoring.
3D Scanning: Create 3D models of objects by capturing multiple images from different angles and using software to process the images into 3D models.
Specifications
Model: Raspberry Pi Camera Module 3

Version: Standard Basic

Sensor: IMX708 Quad Bayer

Field of View (FOV): 75o

Pixels: 4608 x 2592, 11.9MP

Control Interface: I2C – Auto-Focus Support

Aperture: F1.8

Focal Length: 4.74mm

CMOS Sensor Size: 7.4mm

Compatible Devices: Raspberry Pi Series Boards and Raspberry Pi Zero Microcontrollers

Weight: 13 Grams
Dimensions
Items Included
Raspberry Pi Camera Module 3 (Standard Basic Version)
FFC Cable 15-Pin (Opposite Sides Contact)
Raspberry Pi Board and Yellow FPC Cable are NOT included.