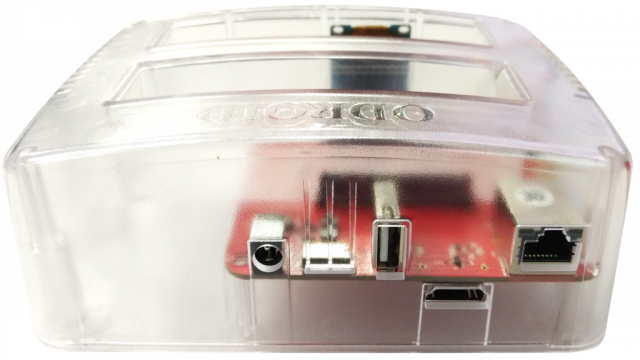 Odroid-HC4 Home Cloud 4GB RAM Amlogic S905X3 1.8GHz Quad Core
Just like the Odroid-C4, the 1.8Ghz Amlogic S905X3 ARM Cortex-A55 Quad-Core processor with Mali G31 MP2 Graphics Processing Unit is also featured by the HC4. The HC4 is grounded on the Home Cloud platform. This HC4 comes with an SPI 16MiB flash chip with Petitboot support. This board's memory is DDR4 4GB RAM. 
Note: This Odroid-HC4 Version DOES NOT include OLED 
What is new with Odroid-HC4 
Instead of USB3.0 to SATA, the Odroid-HC4 has a solid SATA bridge solution (PCIe to SATA). This way, the Odroid-HC4 backs two SATA storage docks. Along with this board comes a transparent case with cutouts for ports and board interfaces. 
Specifications of Odroid-HC4 Home Cloud 
Amlogic S905X3 12nm 
Architecture: ARMv8-A with Crypto and Neon extensions 
Mali-G31 MP2 GPU (650MHz) 4x Execution Engines 
32 KB L1 instruction cache, 128 sets 4-way set associative, 1 processor shares 64 byte lines 
32 KB L1 data cache, 128 sets 4-way set associative, 1 processor shares 64 byte lines 
512KB L3 data cache, 512 sets 16-way set associative, 4 processors share 64 byte lines 
4GiB DDR4 
Low Power Design: 1.2Volt 
But width: 32-bit 
Data Rate: 2640 MT/s 
Grade: PC4-21333 
1x Micro SD Slot (Attuned with DS/HS mode and supports UHS-1 SDR104) 
1x RJ45 GbE LAN Port | supports 10/100/1000 Mbps 
Amber LED: 1000Mpbs connection data traffic indicator 
Green LED: 100Mpbs connection data traffic indicator 
RTL8211F Realtek Ethernet Transceiver 
A Hydraulic Bearing Fan 
Air Pressure: 0.053 in H2O 
Air Flow: 4.3 CFM 
Noise Level: 23.9 dBA 
Current Rating: 100 mA 
Voltage Rating: 5V 
Maximum Rotations Per Minute (RPM): 4000 Rotations 
Connector and Wire: 1.25mm Pitch 4-Pin, 80mm 
Dimensions: 4cm x 4cm x 1.06cm 
HOST USB 2.0 Port (x1) 
SATA Connectors (x2) 
UART Serial Debug Console (x1)
IR receiver for infrared remote control 
System Indicator LEDs 

RED LED for PWR (DC Power Connected) 
BLUE (Flashes when Kernel is running) 
Video 

1x HDMI 2.0 Port with HDR, EDID, CEC | up to 4K @ 60Hz 

Audio 

1x HDMI Digital Audio Output 

Heatsink  

A passive heatsink on the processing unit 

Dimensions: 4cm x 3.2cm x 1cm Power 
1x DC Power Jack: 5.5mm (negative / outer) and 2.1mm (positive / inner) diameter 
5V ~ 15.5V DC Input 
15V / 4A DC Power Adapter Suggested (Not Included)
Power Consumption with 2x HDDs (ST2000DM006) 
IDLE Mode: About 5.88 W (when HHD is in Spin-Down) 
Suspend Mode: About 0.29 W
Active Mode: About 15.59 W (while using SAMBA) 
Dimensions of HC4 Board: 9.05cm x 8.4cm x 2.5cm  
Weight of HC4 (including the case, fan, and heatsink): 280 grams | 0.28 kg 
Odroid-HC4 Software Compatibility
Petitboot can automatically locate the Operating System on the SD-Card, SSD, or HDD. In case the SD-Card is not attached, Petitboot uses the attached SSD or the HDD to boot the HC4. This possible if the Operating System is installed on any of the above-mentioned connected storages.  
Ubuntu and Debian Operating Systems are compatible with the preinstalled Operating System Image from Hardkernel. Ubuntu or Debian Netboot installers can be used too. 
The HC4 supports Linux Kernel's following versions: 
Version 4.9.230 or higher of Hardkernel Stock Operating System
Version 5.8 or higher of Mainline Kernel (unofficial)