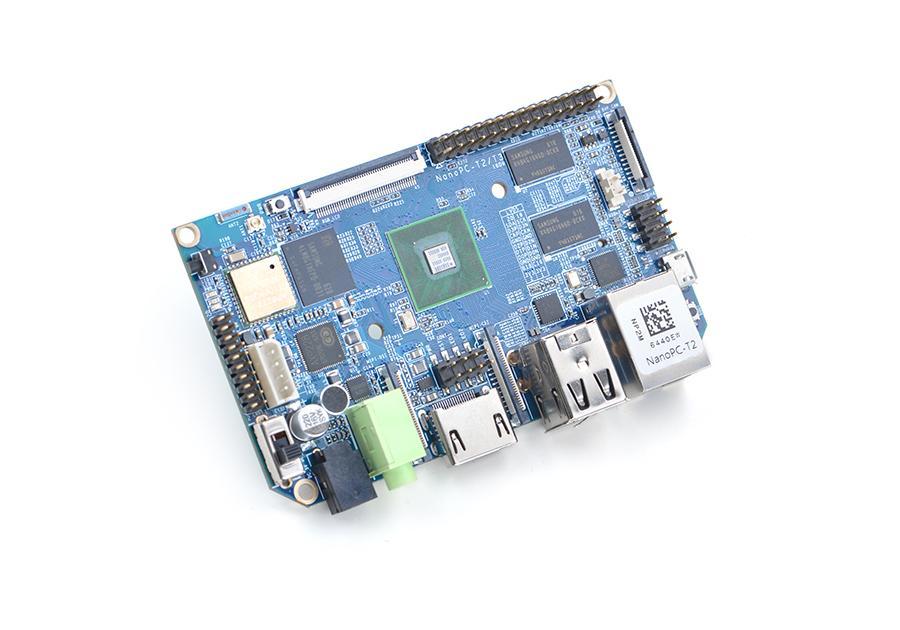 Don't you wish you could have a reset option in your life so that you could start all over again? Well, the NanoPC-T2 has the reset, power, and function. You can bring out the LEDs on the front panel. With the added feature of micro-USB and power supply to turn up the boards, it does not matter if you are in America or the UK as the plug is adaptable everywhere.
NanoPC-T2 Specifications
Samsung SSP441 with 1.4GHz Quad-Core Cortex-A9 Processor
AXP228 PMU which supports software wake up and power-off
1GB DDR3 RAM
b/g/n WiFi connectivity
Dual-mode 4.0 Bluetooth
eMMC 8GB storage support
SD Card Socket
RTC Battery Seat
Ethernet Port
IPX Interface with Porcelain Antenna
A couple of camera interfaces for DVP Camera and MIPl-CSI
Type-A HDMI with LVDS/ LCD / MIPl-DSI with four video output interfaces
Onboard microphone with 3.5 mm audio jack
4x 2.0 USB Host
1x 2.0 type-A MicroUSB
Power LED and GPIO LED
8-8-8 RBG full color, 0.5mm pitch 45 pin FPC seat
1080p Type-A HDMI support
24 pin FPC seat with 0.5mm pitch
30 pin header 54 mm pitch GPIO
54mm pitch 4pin header for Serial Debug Port
Reset and Power Keys
5V/2A Power
Mounting holes with Heatsink
Six-Layer PCB
L x W = 100 mm x 60 mm
NanoPC-T2 Description
Unlike the Orange Pi which would get very hot with heatsink attached, the Samsung S5P54418 has a quad-core Cortex-A9 of 1.4 GHz only gets lukewarm, all thanks to Armbian. The power supply on the wall does get a little warm but nothing too excessive.
The Nano PC-T2 has many features that the Pi3 does not have like faster Ethernet, eMMC 8GB, ability to use full-size SD, microphone onboard, different LCD interfaces, 2 USB hosts on 0.1" connectors. But the boards have lesser standard USB connectors as compared to the Pi3.