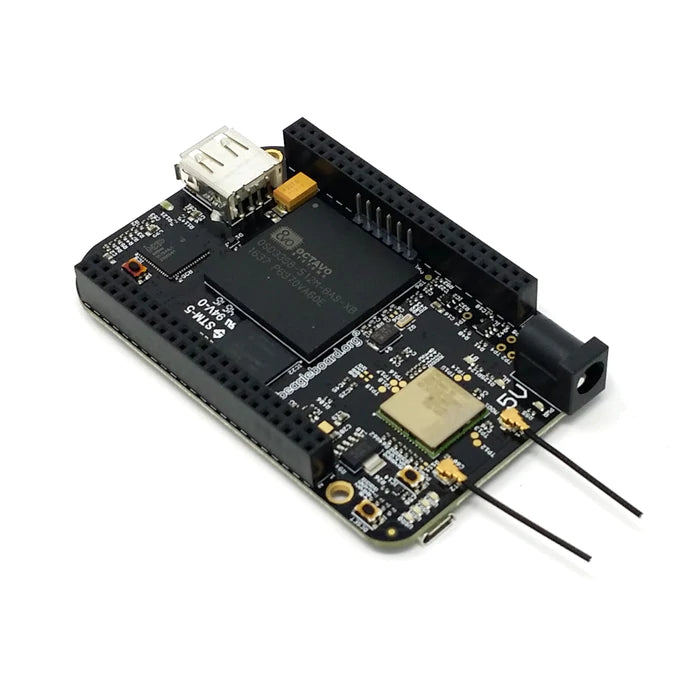 BeagleBone Black Wireless
If you missed wireless networking features on BeagleBone Black standard version then check out this BeagleBone Black Wireless. The board comes with similar specifications and form factors but it has 802.11b/g/n 2.4GHz Wi-Fi and Bluetooth BLE 4.1. There is a WiLink 1835 Chip on BeagleBone Wireless however this version does not have the Ethernet port. BeagleBone Black Wireless headers can accommodate x4 capes.
BeagleBone Black Wireless features a 1GHz ARM Cortex-A8 AM3358BZCZ100. It can be either used as a standalone computer or as a development board by embedding it into other systems. It is based on Linux OS and it is apt for makers, hobbyists, or electronic engineers. 
Video Presentation of the Product  
Specifications of BeagleBone Black Wireless
Processor: 1GHz AM3358BZCZ100 ARM Cortex-A8 
Memory: 512MB DDR3 RAM 
Flash: 4GB eMMC 
EEPROM: 4kB 
PMIC: TPS65217C 
Wireless Networking: WiLink 1835 | Wi-Fi 2.4GHz 802.11b/g/n | BLE Bluetooth 4.1
I/O: 2x 46-Pin GPIO Headers 
1 Boot Button 
1 Reset Button 
1 Power Button 
Debug: Serial Debug Port 20-Pin CTI JTAG 
1 Power indicator LED 
4 User controllable LED indicators 
Graphics: 20M polygons/S 3D SGX530 
Optional Storage: both 3.3V MMC and Micro SD Card Slot 
1 Client Mini USB 2.0  
1 Host USB A 2.0
HDMI Audio  
Power Compatibility: 5V DC Power Jack  
Dimensions: 8.64cm x 5.33cm
Weighs 39.68 Grams 
Software and Operating System Compatibility
BeagleBone Black Wireless is compatible with (OS):
Linux 
ThreadX 
QNX 
Windows Embedded CE 
Android 
BeagleBone Black Wireless supports: 
Cloud9 UDE
Ubuntu 
Android 
Debian 
Difference Between BeagleBone Black and BeagleBone Wireless 
BeagleBone Wireless supports wireless connectivity whereas BeagleBone Black lacks this feature of Bluetooth and Wi-Fi. On the other hand, the BeagleBone Black has RJ45 Ethernet but BeagleBone Wireless has no Ethernet port. Other than that, both are pretty much the same. 
Items Included 
1x BeagleBone Black Wireless SBC
1x Mini USB to USB-A Cable 
Compatible Cases (Not Included)