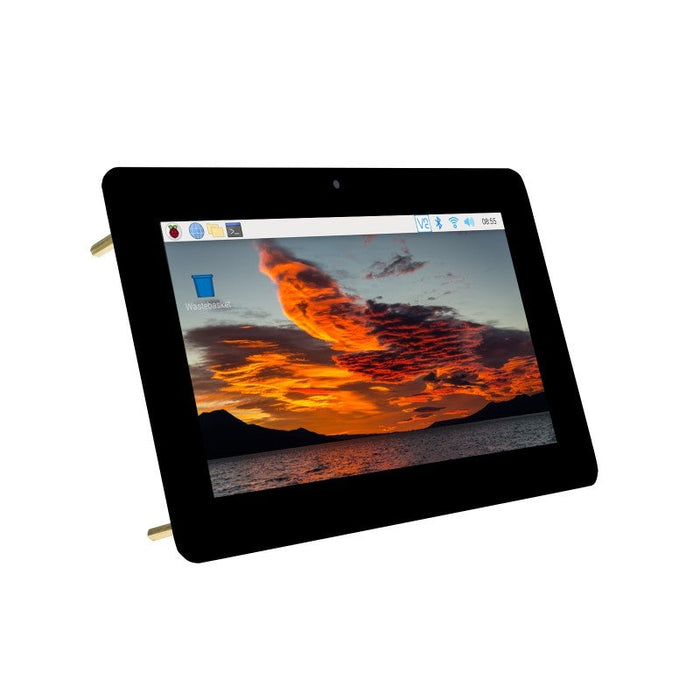 8-inch Capacitive Touch Screen for Raspberry Pi – 800x480p DSI Interface
Download User Guide for 8 inch DSI LCD
This touch screen is compatible with Raspberry Pi and features the MIPI DSI display port. It is an 8-inch display unit with 800x480p resolution. It is a low-power consumption display with a capacitive touch panel that supports up to 5 touch points (depending on the Operating System). The touch screen features a toughened glass panel.
Operating System Compatibility
Raspberry Pi Operating System Support | Driver Free – 5 Touch Points
Ubuntu / WIN10 IoT / Kali Support | Driver Free – Single TouchPoint
Retropie Support| Driver Free
Compatible Raspberry Pi Hardware
The following Raspberry Pi Boards are compatible with this touch screen.
Raspberry Pi 4B
Raspberry Pi 3B+
Raspberry Pi 3A+
Raspberry Pi 3B
Raspberry Pi 2B
Raspberry Pi B+
Raspberry Pi A+
Examples of Working with Raspberry Pi 
Working with Raspberry Pi 4
Working with Raspberry Pi 3B+
Note: This screen is also compatible with Compute Modules (CM3, CM3+, and CM4). However, an extra adapter board will be required in this case. 
Features of 8-inch Touch Screen for Raspberry Pi
Anti-interference design – features a stable LCD FFC cable for industrial applications
Voltage Adjustment for Optimizing Display Effect – VCOM
Minimal wiring – uses Pogo Pins for Power Supply
Two output headers support 5V connections for low power devices such as cooling fan
The touch panel has a reverse camera hole to connect an external camera
Easy to use large front panel suitable for many devices
Comes with SMD nuts 
Form Factor
Diagonal Display Size: 8-inch
Weight: 412 Grams
Screen Area: 117.24 mm x 99.96 mm | 11.724 cm x 9.996 cm
Outline Dimensions: 219.0 mm x 142.10 mm | 21.9cm x 14.21 cm
Items Included
DSI Capacitive Touch LCD 8-inch (x1)
FPC 1.0 pitch 50mm 15PIN - Opposite Side Contact (x2)
Wire 2PIN 10cm (x1)
Pack of Screws (x1)
Note: Raspberry Pi is NOT included