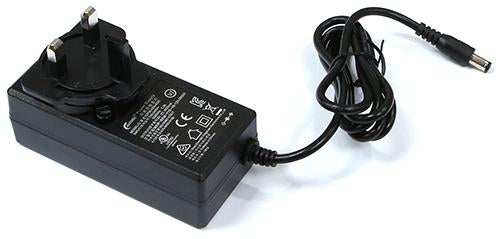 Official ODROID Power Supply 5V/4A UK Plug (ODROID-XU4/XU4Q/HC1/MC1)
When dealing with the electronics, the first safety precaution is to always double-check the power supply compatibility. You can't trust any general-purpose power supply because it could damage the board after voltage overflow. Here is the official 5V/4A Power Supply from Hardkernel that is compatible with ODROID-XU4, ODROID-XU4Q, ODROID-HC1, and ODROID-MC1. This particular power supply comes with the UK plug. The inner/+ve diameter is 2.1mm and the outer/-ve diameter is 5.5mm.
Specifications of 5V/4A Power Supply (UK Plug)
The adapter of the power supply has the switching mode

It is compatible with 100~240 AC (Voltage Input)

The power supply supports the voltage output of 5V/4A DC

Plug Type: UK Plug

Positive (inner) Diameter = 2.1mm

Negative (outer) Diameter = 5.5mm

Approximate cable length: 1-meter / 100cm
Compatible ODROID PCs
The 5V/4A Power Supply is compatible with
ODROID-HC1
ODROID-MC1
ODROID-XU4
ODROID-XU4Q
Disclaimer
The 5V/4A Power Supply is NOT compatible with
ODROID-C2

ODROID-C0

ODROID-C1+
Description
This is the official power supply designed and manufactured by Hardkernel to support their ODROID PCs. Please make sure to double-check the compatibility of 5V/4A Power Supply with your ODROID board before placing your order. Also, make sure to select the power supply with the right plug you need.