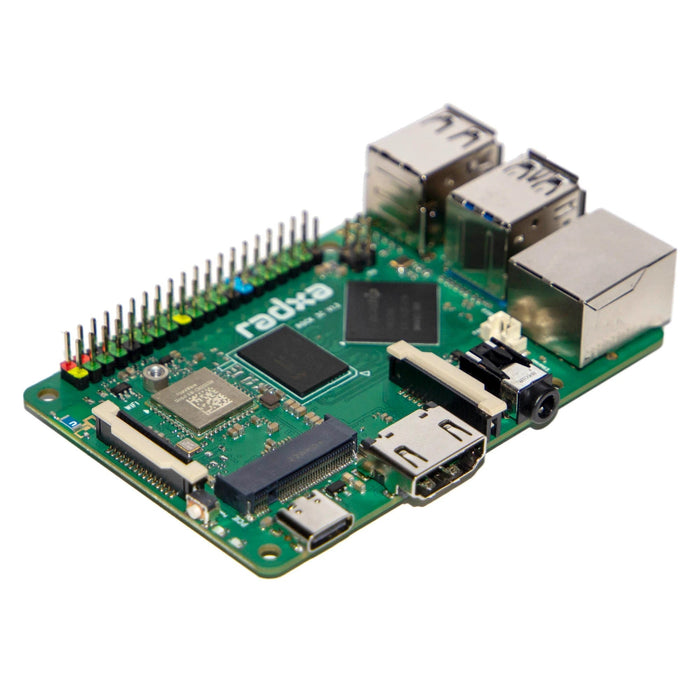 Downloads
ROCK 3 Model C features ROCKChip RK3566 System on Chip and is based on the 1.6GHz quad-core Cortex-A55 processor with ARM Mali G52 Graphics Processing Unit. There is 1GB LPDDR4 32-bit RAM onboard as well as an eMMC socket. In addition, ROCK 3C has SATA 3.0 and M.2 M-Key 2230 connectors.
Convenient Networking
The ROCK 3C features 802.11 b/g/n/ac Wireless LAN support, including WiFi5 and Bluetooth 5.0, making it ideal for IoT applications that require a reliable Bluetooth connection or internet connectivity via WiFi.
Compatible with Different Operating Systems
The ROCK 3C is highly versatile and is compatible with various operating systems, including Android 11, Debian/Ubuntu Linux, and the full implementation of the Arm architecture v8 A instruction set.
No More Storage Limitations
Despite having only 32-bit LPDDR4 1GB RAM, the ROCK 3C has a high-speed eMMC socket that supports eMMC modules for data storage and OS. The socket is compatible with readily available industrial pinout and form factor hardware.
Supports Various SBC Accessories
The ROCK 3C's 40-PIN header supports a wide range of interface options, making it compatible with almost every accessory. Many of its pins have dual functionality, providing opportunities for advanced accessories.
Supports 1080p Display
The ROCK 3C is ideal for multimedia applications, thanks to its Arm Mali™ G52 GPU. It features camera and display interfaces, an HDMI 2.0 port that supports displays up to 1080p resolution, near-CD-quality audio output through a 4-ring 3.5mm audio jack with a mic input, and more.
Specifications
System on Chip (SoC): RockChip RK3566
Processor: ARM Cortex-A55 Quad-Core 1.6GHz 64-bit ARMv8
RAM: 1GB LPDDR4 32-bit
GPU: ARM Mali G52-2EE | OpenCL 2.0, Vulkan 1.1, and OpenGL ES1.1, 2.0, 3.2 Support
Power: USB Type-C 5V / 3A (without M.2 SSD) and 5V / 4A when using M.2 SSD | GPIO Pin 2 and 4 support 5V power input
Bluetooth BT 5.0
Wireless LAN WiFi 5 Support 802.11 b / g / n / ac
HDMI 2.0 Port | Up to 1080p resolution
SD Card Slot
USB 2 HOST Ports (x3)
USB 3 HOST Port (x1)
Gigabit Ethernet Port (x1) | Supports PoE and PoE HAT
SATA and MVMe SSD Conenctor M.2 M-Key (x1)
MIPI CSI Camera Port 2-Lane
MIPI DSI Display Port 2-Lane
Audio Jack 3.5mm with Microphone Support | Supports HD codec up to 96KHz / 24-bit Audio
GPIO 40PIN
Software Support: AMv8 Instruction Set | Android 11, Linux Ubuntu / Debian | Android / Linux Hardware Access Control Library Support
Pinout Diagram
Items Included