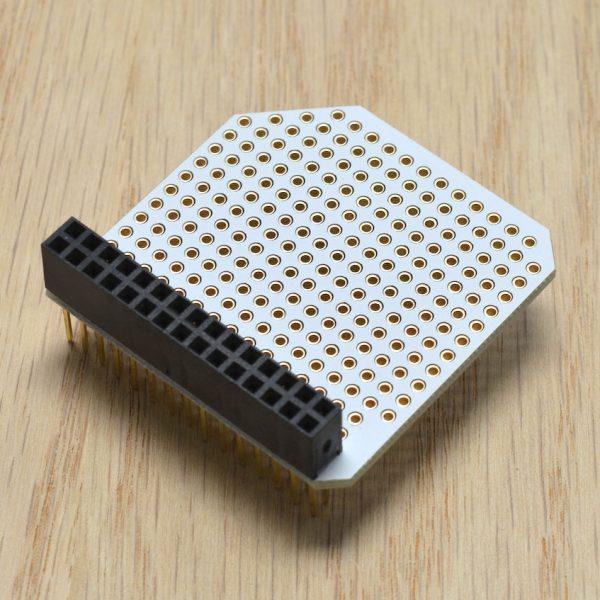 Proto Expansion for Onion Omega
Are you one of those who love customizing everything, even the devices and looking do to it for your Omega projects? Proto Expansion is precisely what you should be looking for; an easy to use, reliable, user-friendly and highly efficient prototyping solution. It makes it possible to customize various expansions as per your requirements. Working with Omega on your own terms feels great and with the release of Proto Expansion for Omega, you can materialize whatever you've been visualizing for years.
Proto Expansion Specifications
Features 30-Pin Expansion Pins
A reasonable area for prototyping containing 215 pins
The pitch displacement between the pins is 0.1"
Weighs just 15-grams
Proto Expansion Features
Salient features of Proto Expansion for Omega are as follows:
Enables you to create Omega expansions with customized features
Offers soldering area (small yet reliable)
Pin header (30-Pin) ensures easy and reliable connectivity with the Dock
Empowers you with complete control over your Omega projects
Proto Expansion Description
We all love working on our own terms and this instinct has become dominant in the programmers, developers, and electro-coders. Nowadays, customization and freedom of choice are becoming increasingly preferred features because these two factors empower you with everything you need to demonstrate your creativity. For centuries, innovation has been the most significant ingredient of the success-recipe. Proto Expansion for Omega is yet another helping-hand to promote creative minds. It strengthens our belief on "you can do whatever your mind can perceive".
Great minds can't simply rely on the conventions. Thinking out of the box is one aspect and it requires assistance to materialize the creative vision. Proto Expansion is here to help all Omega users who feel a bit restricted by the conventional Expansions.
Note
Proto Expansion is compatible with the Expansion Header Docks only.