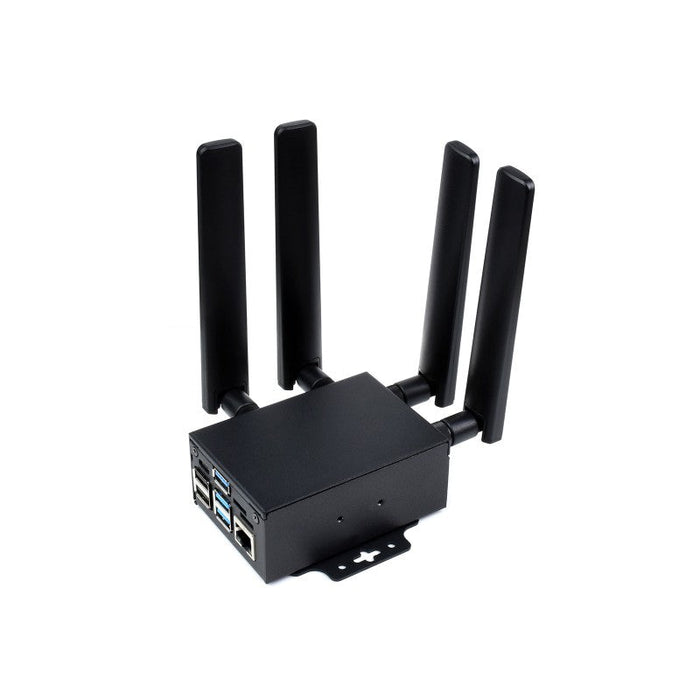 SIM8202G-M2 5G HAT with Raspberry Pi Case
Download User Manual and Resources for SIM8202G-M2 5G HAT
Due to legal restrictions from SIMCOM module manufacturer, we are not allowed to ship SIM8202G-M2 HAT to Iran, Cuba, North Korea, Syria, and Sudan.
This 8202G-M2 5G HAT is compatible with Raspberry Pi. It comes with a Raspberry Pi case and antennas. The HAT supports 5G, 4G, 3G, 2G, GNSS positioning, and SA / NSA networking.
SIM8202G-M2 5G HAT Application Examples
Smart Gateway
CPE
Live Streaming
Drone
Intelligent Security
Remote Medical Treatment
Multi Band Multi Mode
Qualcomm platform appllicable in many regions and countries. This module works in Europe, the United States, South Korea, China, Japan, Latin America, and the Middle East.
Multiple Operating System Support
Compatible with Raspbian, Ubuntu, OpenWRT, and Windows 11, 10, 8, 7. Easy to use – simply plug into the USB port and it is ready to work after some simple settings.
Connection Examples 
Use USB Cable for NVIDIA Jetson Nano or Windows Laptop or PC. Use USB Adapter for Raspberry pi boards.
Cloud Communication 
High-Precision Multi-Constellation GNSS
GPS, Galileo, Beidou, GLONASS, and QZSS Support
SMS and Phone Call Support 
Send SMS or make phone calls through AT commands
Raspberry Pi Compatible 40 PIN GPIO Header
Stackable design for multiple HATs. Works with Raspberry Pi and NVIDIA Jetson Nano.
High-Speed Cooling Fan 
Provides better heat dissipation for 5G module and Raspberry Pi
Multi-Orientation Case
The case supports multiple installation methods. You can mount it on the wall or use it with the DIN Rail.
Guidelines to Set Up SIM8202G-M2 5G Module with Case 
Application Examples
5G Wireless Router
Turn your Raspberry Pi into a 5G wireless router with the help of OpenWrt. Use as a WiFi hotspot for other devices such as smartphones to access the 5G network easily.
5G Live Streaming
Supports camera mounting for live streaming using the ffmpeg video stream. You can also stream videos live on your webpage.
Features of SIM8202G-M2 5G HAT
Multi-band multi-mode support with 5G SA / NSA networking
Qualcomm platform
GPS, Glonass, Beidou, QZSS, and Galileo dual-band multi-constellation positioning support
Linux, Windows, Android, Raspbian, and Ubuntu OS support
2 B Key Standard Slot
RST, PWR, UART control pin onboard
Voltage level translator built-in – use DIP switch to enable
Switch-enabled USB-C connector onboard to connect an external power supply
ON/OFF switch for power supply, LED indicator, and reset button
Antenna connectors SMA to IPEX (x4) | SMA terminals are pre-soldered
SIM card slots (x2) | dual card single standby | AT command support for switching
Audio decoder and jack to support phone calls
Up to 3A current output through high-efficiency power supply circuit
Specifications of SIM8202G-M2 5G HAT
5G Standard: 3GPP R15
Chip: X55 Qualcomm Snapdragon
Frequency Band
LTE-TDD: B34, B38, B39, B40, B41, B42, B43, B48
LTE-FDD: B1, B2, B3, B4, B5, B7, B8, B12, B13, B14, B17, B18, B19, B20, B25, B26, B28, B29, B30, B32, B66, B71
Sub-6G: n1, n2, n3, n5, n7, n8, n12, n20, n28, n38, n40, n41, n66, n71, n77, n78, n79
WCDMA: B1, B2, B3, B4, B5, B8
GNSS: GPS, Beidou, GLONASS, QZSS, Galileo
Data Rate
Sub-6G: 2.5Gbps (Download) and 500 Mbps (Upload)
HSPA+: 42Mbps (Download) and 5.76 Mbps (Upload)
LTE: 1Gbps (Download) and 200Mbps (Upload)
Communication Protocols
TCP / IP, IPV6, IPV4, FTPS, FTP, Multi-PDP, HTTPS, HTTP, SSL3.0, DNS, and MQTTS
Dial Up and SMS
NDIS, MBIM, PPP, RNDIS | PDU, Text, MO, MAT, and CB
Hardware Specs
SIM Card Slot: 1.8V ~ 2.95V
Power Supply: 3.135V ~ 4.4V Compatible
Antenna: IPEX-4 Connectors
Form Factor: M.2
Operating Temperature: -30℃ ~ +70℃
Dimensions: 5.2cm x 3cm x 0.23cm | 52mm x 30mm x 2.3mm
Items Included
Protection Case Kit
HAT M.2 to 5G
SIM8202G-M2
Antennas (x4)
Pin Headers 2x20 PIN (x1)
IPEX Adapter Cables (x4)
GPS Passive Antenna (x1)
SMA Protective Caps (x4)
USB 3.0 Adapter (x1)
USB 3.0 Dual Plug Cable (x1)
USB 2.0 Adapter (x1)
Screws Pack