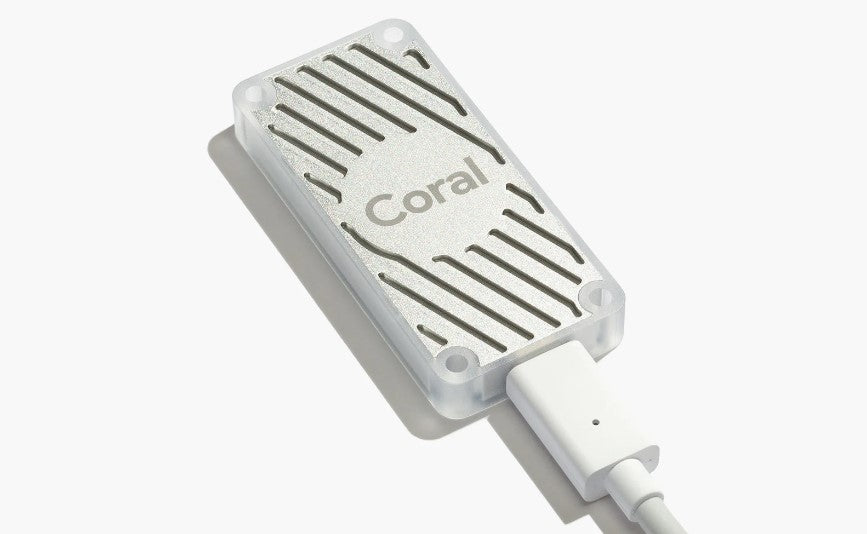 Google Coral USB Accelerator for PC and Laptop USB 3.0 Type C
Download Coral USB Accelerator Datasheet
Getting Started with Coral USB Accelerator
The Coral USB Accelerator has the Google Edge TPU Machine Leaning coprocessor. This Coral USB Accelerator can be used with a PC as well as with a laptop in order to accelerate the Machine Learning Inference with Google Edge TPU. It has a 3.0 Type C USB Port that makes it easy to connect to. 
What is Google Edge TPU? 
The Edge TPU has been created by Google for boosting up the TensorFlow Lite models. This small ASIC is a $TOPS ASIC and uses power very efficiently. Out of the total 2Watts used, each Watt is consumed for 2 Trillion Operations. TPU can be helpful in many applications like the application for execution of mobile vision models e.g., MobileNet v2. The Edge TPU cuts down the complacency and enhances data privacy. It is the on-device ML processing that cuts down the need for a steady internet connection. 
Video Presentation of the Product 
Features of Google Coral USB Accelerator for PC and Laptop 
Efficient Google Edge TPU accelerator for Machine Learning Inferencing 
Length of cable: 12-inch | 30cm  
OS Compatibility:
Dimensions: 6.5cm x 3cm x 0.8cm | 65mm x 30mm x 8mm 
USB 3.0 Port 
Super Speed 5Gbps USB Type-C to Type-A cable 
Form Factor (mm.)
Operating System Requirements for Google Coral USB Accelerator for PC and Laptop 
Google Coral USB Accelerator shows compatibility with:
Windows 10 
Mac Operating System 10.15 (with Homebrew or MacPorts installed) 
Python 3.5, 3.6, 3.7
Debian 6.0 or the latest version like Ubuntu 10.0+ 
ARM64 or x86-64 system architecture 
Items Included
Coral USB Accelerator (x1)