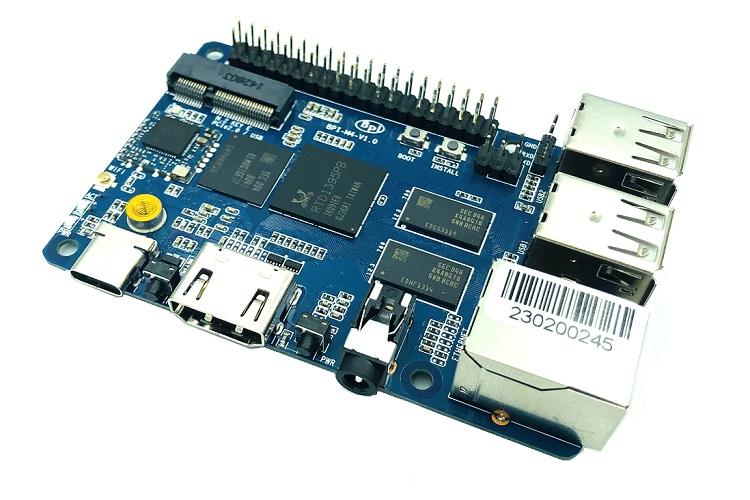 Banana Pi M4 aka BPI-M4 2GB RAM 8GB eMMC (Realtek Quad-Core RTD1395)
The Banana Pi M4 aka BPI-M4 features the Realtek RTD1395 Cortex-A53 Quad-Core processor that runs on 64-bit architecture. The Graphics Processing Unit Mali470MP4 supports OpenGL ES 1.1/2.0. The board comes with a 2GB DDR4. The best thing about Banana Pi M4 is that it has an 8GB eMMC Flash that us capable of supporting up to 64GB. As the additional storage option, BPI-M4 has the MicroSD Slot that supports up to 256GB card. Wireless connectivity features include an onboard 802.11 b/g/n/ac WiFi module and Bluetooth 4.2. The board has a Type-C USB port in addition to 4 USB 2.0 ports. Other interfaces include HDMI, Audio Jack, and PCIe 2.0.
Hardware Specs of Banana Pi M4 aka BPI-M4 2GB RAM 8GB eMMC (Realtek Quad-Core RTD1395)
CPU: Realtek RTD1395 64-Bit ARM Quad-Core Cortex-A53
Graphics Processing Unit: Open GL ES 1.1/2.0 supportive Mali470MP4
Memory: 2GB RAM (DDR4)
Flash: 8GB eMMC (up to 64GB supported)
LAN: 10/100 Mbit/s Ethernet
Bluetooth: Bluetooth 4.2
WiFi: 802.11 b/g/n/ac onboard WiFi module
Video Output: HDMI port
Supports multichannel audio output
Audio Jack 3.5mm for audio output
2K/4K supportive H.264 and H.265 1080p
PCIe 2.0 Slot Key-E / USB 2.0
1x Type-C USB 2.0 Port
4x USB 2.0 Ports
Peripherals: 28x GPIO, GND, 5V/3.3V/ I2C, SPI, UART, PWM - 40-Pin Header
1x Power Button
1x U-boot Switch
1x Reset Button
1x Power LED
1x Status LED
The board also supports PoE for power
MicroUSB Type-C 5V/2A Compatible
Runs Android and Linux Operating Systems
Weighs just 48 grams
Dimensions: 92mm x 60mm
Description
The Banana Pi M4 has powerful processing capabilities thanks to the Realtek RTD1395 and Mali GPU. In addition to the streaming engine (built-in), this PC also has 512K L2 embedded cache. The GPU is capable of smoothly running 2D and 3D graphics which is good news for gaming geeks.