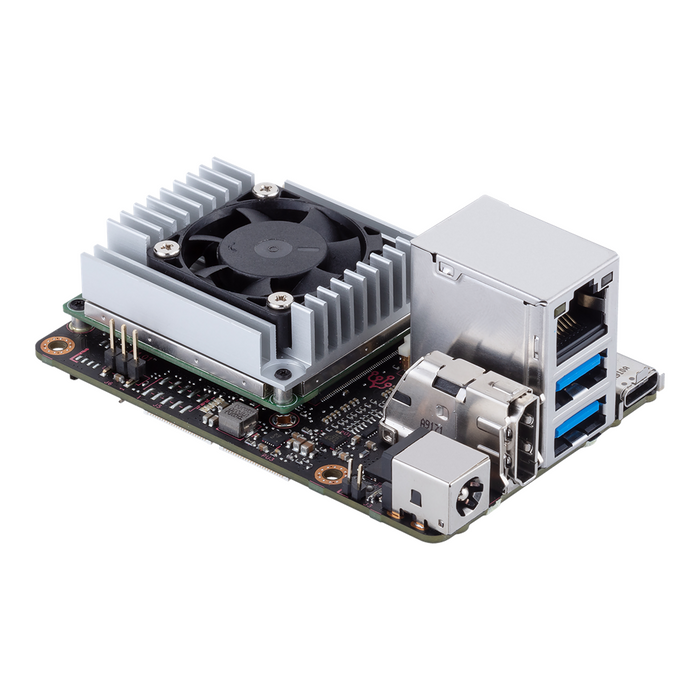 ASUS Tinker Edge T NXP i.MX 8M Google Edge TPU with 1GB RAM and 8GB eMMC
Getting Started with Tinker Edge T
Tinker Edge T Quick Start Guide
ASUS Tinker Edge T has been specially created to support AI apps. The board uses the machine learning accelerator, Google Edge TPU, recognized for higher processing efficiency levels. Also, this ML accelerator requires low power which is appropriate to build AI apps by fitting in different devices. While consuming just 0.5 watts for each computation unit with up to 4TOPS speed, the ML accelerator lets the board perform well as compared to orthodox SBCs.
The Tinker Edge is precisely enhanced for TensorFlow Lite according to ASUS developers. This enhancement can help it run easily and also help in the compilation of different ML models. 
Video Presentation of the Product 
Hardware Specifications of ASUS Tinker Edge T 
Google Edge TPU (NN Processor) ML Accelerator Co-Processor 
Quad-Core ARM NXP i.MX 8M SoC 
GB LAN RTL8211F-CG 
1 Type-C Gen1 OTG USB 3.2 
2 Type-A Gen1 USB 3.2 
2 MIPI CSI-2 (24 PIN) Camera Interfaces 
Operating Temperature Ranges from 0℃ to 50℃
Non-Operating Temperature Ranges from -40℃ to 80℃
Non-Operating Humidity (Non-Condensing) Ranges from 0% to 85% 
1GB Dual Channel LPDDR4 4th Generation DDR DRAM  
GC7000 Lite Graphics Processing Unit 
40 Pin GPIO Pin Header 
GPIO Layout 
2 Power Pins (5V) 
1 PCM/I2S 
1 Reset Header (2 Pin)
1 Boot Mode Switch 
1 DC Fan Header (2 Pin) 
28 GPIO Pins 
2 I2C Bus 
1 SPI Bus 
3 PWM 
2 UART 
2 Power Pins (3.3V) 
5.5mm / 2.5mm Power Input Jack (from 12 V to 19V Compatible) Supports up to 45W 
1 MIPI DSI (22 PIN) 
1 HDMI with Hardware Ready CEC 
8GB eMMC Storage 
Micro SD (TransFlash Push/Pull) Card Slot (Supports SD 3.0) 
Active Heatsink 
Bluetooth: 4.2 
802.11 a/b/g/n/ac Wireless Module 
Compatible with Debian 9 
Dimensions: 85.5mm x 54mm  
Top View 

Bottom View 
Most of the Single Board Computers present the power design suitable for 5V / 3A 15Watt. This power design becomes unstable in case multiple devices are connected. The benefit of the Tinker Edge T is that it promotes an upgraded power design with the DC head that can deliver up to 45 Watts. It increases the constancy of the power system when multiple devices are connected. The ASUS Tinker Edge T also has power-protection features to circumvent conceivable impairments in the case of noteworthy voltage fluctuations. 
Items Included
Compatible Case (Not Included)